One of the many services we offer clients is the option to sell their second hand boats through us.  With our contacts and students using the Windsport Sailing School or Cat Clinic we can often put sellers in touch with buyers.  We also periodically turn our School boats around before they show any signs of wear and tear.  Even if what you are looking for is not currently advertised please contact us to let us know.  We often know of boats before they become officially 'advertised'.
Check out the current list here
END OF SEASON CLEARANCE
One of the highlights on offer at the moment is this Topaz Race X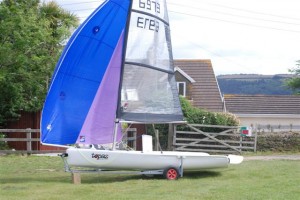 Description:  Topaz dinghy with all the bells and whistles, mylar fully battened mainsail and  gennaker chute system. The boat is in excellent condition little used and ready to give some fortunate sailor a load of fun on the water.
Price : £1995.00
Accessories:  Galvanized trolley and boat cover
Viewing Locations: Windsport Dinghy Park
Owner: Private
Contact: Windsport 01326 376191 info@windsport.co.uk