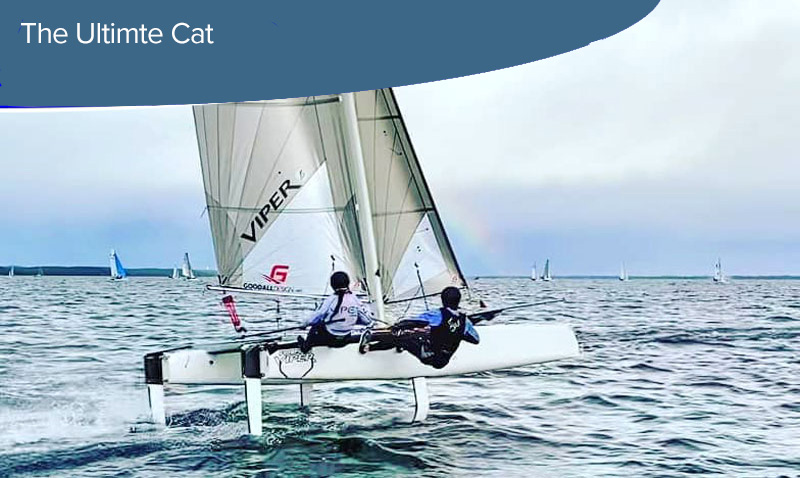 The Goodall (F16) Viper design has left a trail of exciting development in its wake and the most recent unique foil casings development makes straight and foil sailing a quick and simple conversion within a few minutes.
The Viper Convertible 
The launch of Goodall's "FOILING VIPER CONVERTIBLE has been a great success! All sailors come off the boat with a big smiles. 
The fact that the boat can be sailed both in floating and foiling mode with an easy switch, attracts a lot of sailors. The versatile character of the Foiling VIPER convertible makes it also more budget friendly compared to the other foilers on the market! Unfortunately, weather conditions are not always perfect for foiling, especially when learning. With the Foiling VIPER convertible, no need to wait for the conditions to change, you can still hit the water and have fun with your sailing friends with the straight boards in. You can even go racing in F16 mode, all with the same boat, all included in the package! For more information talk to the Windsport Performance expert Tom Phipps
The Viper F16
The Viper is still Goodall's most sold model and still the best performing catamaran sold in its class! The little brother of the F18 it is awesome in all aspects: light, fast, fun, easy, versatile. Both recreational and regatta sailors fall in love with the VIPER. 
Next to many nationals and local regatta's, the VIPER also won the F16 Europeans. Which makes the VIPER again the current, both World and European, F16 champion boat!
The Viper Solo
The Viper Solo was first launched in 2018 as an F16 class legal solo multihull, based on the VIPER with carbon mast, decksweeper mainsail and sealed trampoline but leaving off the fittings for the jib helped to reduce the weight of the boat to make it ideal for solo sailing and racing.
The VIPER solo premiered at the F16 Europeans in 2018 and immediately won the single handed category!
Step aboard a Viper for a test sail and let the Viper speak for herself.
To set up a Viper test sail; or for the latest up to date product information click here to contact the