The Weekend of 29 /30thJune saw the 5thAnnual Firebird Catamaran Windward Leeward Championship take place off Falmouth. Many of the Firebird fleet leave use Windsport's Winter storage options to park their Cats in the off season.  It is hard to believe that this class was designed and built around 30 years ago and with a fleet of around 11 boats migrating back to its natural home in Falmouth. It still offers incredibly high performance and close one design harbour and coastal racing on regular basis.  The weekend championship, hosted by Flushing Sailing Club and with the support of Windsport International saw 5 races completed in near perfect conditions.
On a day when the Round the Island Race saw light breezes Falmouth Bay enjoyed consistent force 4+ with an almost perfect flat sea.   Saturday saw 3 races recorded, under the stunning vista of Pendennis  Castle with incredibly close racing and plenty of position changes with in the fleet.  Peter Stephens (who works part time with the Windsport Team) in Ultra Violet and crewed by Tom Laity proved the most consistent in boat speed, handling and reading the conditions to lead from James Parker and Danny Shenton in Firefly.  Mike Webb, in Crackerjack, persevered with a torn kite throughout the day to post a remarkable third overall. Clearly his legendary catamaran experience meant he was always a threat if anyone dropped their concentration.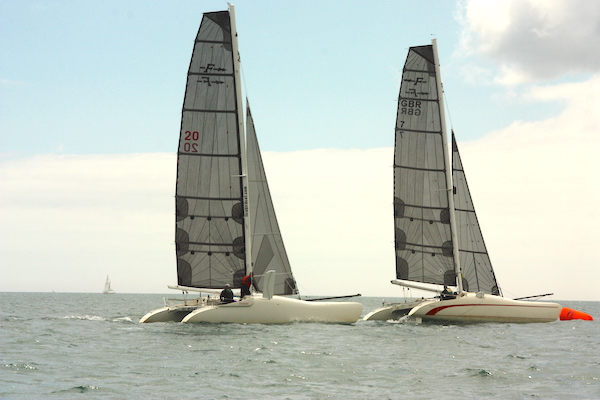 On Saturday night the race team and competitors enjoyed a fabulous 'Curry at the Café at Café Mylor and much discussion on the beats or downwind legs that got away.   It was a great chance to welcome new owners into the championship who were equally enthused by the close racing and this classic 28' Catamaran is offering and the challenges of learning to tune and sail it fast.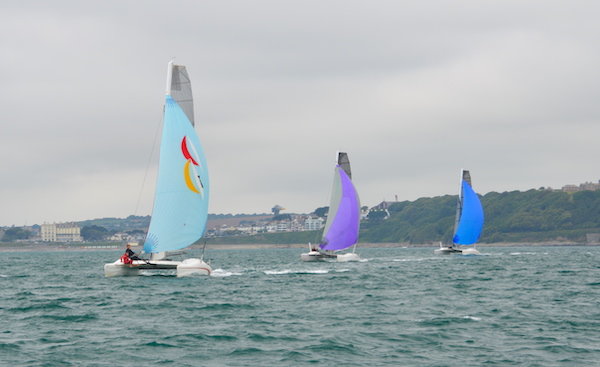 Some attrition from Saturday meant a smaller fleet started the last two races on Sunday and the race team offered up a shorter course with more laps.  A clean start and good boat handling were key to success in this format and in an increasing breeze Ultraviolet took line honours in both to take the overall championship with Firefly snapping close on their heels to reinforce their Second overall.  Rupert Kidd and Elliot Wilkinson, in Fiery, also showed consistency in these conditions to take the third podium place.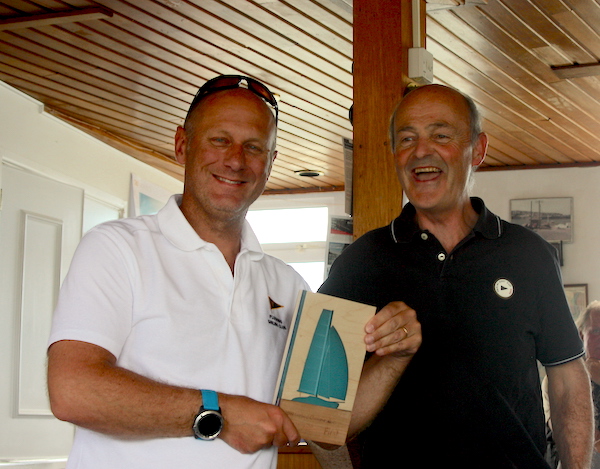 The fleet will now be looking forward to a good turnout in Falmouth Week in August with more close regatta racing out in Falmouth Bay from 11thto 17thAugust.