Windsport  the UK and Ireland  appointed dealers for the F18 class  C2  and F16 class Viper, launched the C2 catamaran onto the UK market at the recent and famous Regfest regatta.  F18 class sailors from all the leading brands sailed the 8 race series , experiencing challenging to perfect conditions.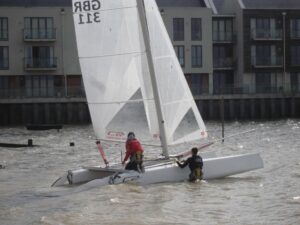 The C2 was sailed by Windsport team sailor  Tom Phipps  crewed by long time friend Jon Cook , in a boat fresh out of the box. The team finished first in 7 out of the 8 races to show a convincing turn of speed on all legs of the course.
The C2 is one of the leading F18 designs , with a string of results internationally.
Tom Phipps will continue to sail the C2 at  selected F18 events in the UK and abroad, deliver demonstration sails, technical support and  F18 coaching.
For more information on the C2 , F18  – Viper F16 and Windsport coaching contact the Windsport technical team.