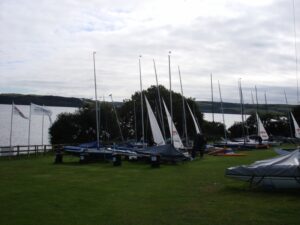 After the culmination of  one of the best Falmouth Weeks for years  yet again the Windsport dinghy park has proved to be just about perfect; with loads of boat park room, easy all states of the tide launching and the  Windsport team on hand to provide  chandlery and workshop support.  Complete with Car parking on site too what more could they need?
Windsport  works with the Restronquet  SC team to provide a great regional regatta location , championship venue, or  squad training and coaching  venue.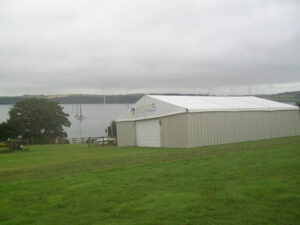 The Windsport site is clearly the reason we have been chosen as the ideal venue for the ICCC World Championships this September.
WIth one of the teams already in place with its technical crews and sailors we are looking forward to a month of incredible Multi hull sailing with several of the world best Cat sailors pushing their space age boats to take home the prized title of World Champion.   Keep up to date with the event on this website and the
official championship website
.  We will be bringing you details from the inside the tents as they are pieced together.
Team Hydros are the first team to be setting up on site.
For more information  about short and long term boat parking @ Windsport or as a championship venue contact the Windsport team.