Windsport coaching is not just for the top end sailors, last weekend the Windsport catamaran sailing school moved offshore to the Channel Islands.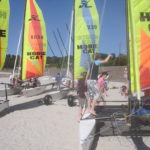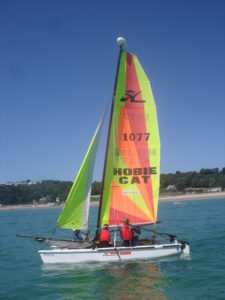 Brian Phipps took his coaching experience to  Jersey to work with Hobie 16 club sailors from the RCIYC to improve their racing performance and the club junior catamaran fleet in their Hobie Dragoons to get a foot on the catamaran ladder.
Day one saw windy conditions for the Hobie 16 teams leading to a focus on boat handling  techniques on all points of sailing while day two was perfect conditions for the junior fleet to sharpen their understanding of what makes a catamaran really tick whilst having a good time experimenting with every which way a catamaran can be righted after a capsize.
The Windsport team are very happy to support entry level class and club coaching delivering a level of coaching that is appropriate to the sailors, the boats available and conditions at the location.
For more information on the availability of  Windsport coaching  nationally and internationally for, groups, individuals teams, clubs, classes and federations just give us a call or email info@windsport.co.uk