Sprint 15 @ Marconi
Those Sprint 15 sailors who did not make the Marconi Open meeting event last weekend, missed a very special weekend.  Sprint 15 @ Marconi
Great club, great welcome, great racing and great organisation, thx Jenny!

Windsport supported the event with our unique technical and replacement parts service ensuring everyone was kept on the water during the event. Kevin Kirby took delivery of his new boat, looking very smart and will give it, its first taste of the water in the next few weeks.
Sprint 15 sailors get out on the water whatever the conditions  and this weekend was no exception, northerly breeze with gusts above 25 knots and sharp chill factor!   The Sprint 15 fleet enjoy a variety of race course  making event racing varied and  interesting,square courses , inverted P courses  are options alongside the traditional upwind / downwind  options or Olympic triangles. The Marconi event  includes a very special around the island  race with all its natural hazards, wind shadows and potential trouble spots! And this year the reaching leg back to the finish was just a perfect Sprit 15 blast.
So  if you  are a Sprint 5 sailor and you missed out on this event make sure you sign up for the next event @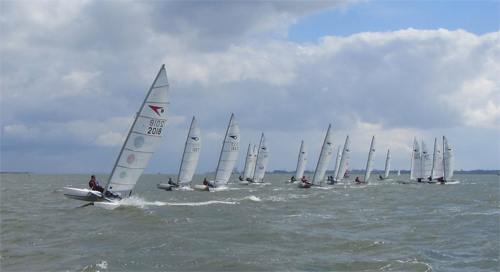 Kent. If you are new to sailing or want to get into catamarans  the Sprint 15  offers  a great class, friendly event circuit and excellent manufacture support on and off the water.
For more information about Sprint 15  contact / visit :-