Land-yachting with Windsport.
Top GBR youth Multihull sailor and friends  take a trip to Cornwall to enjoy Windsport Land-yachting at its best.
Rupert White, fresh from his success at the ISAF youth Worlds 2011, was quick to get to grips with the buzz  Windsport land-yachting gives to people who like going fast. Starting with the excellent  leisure yachts capable of speeds up to 40mph, he was soon stepping up to the Windsport's race yachts that can reach speeds of 60mph +.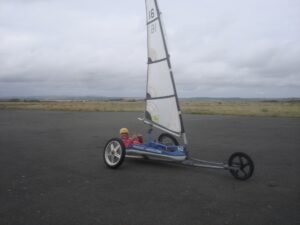 The Windsport land-yachting takes place on a airfield  near Perranporth on the north coast of Cornwall. The range of yachts offers something for everyone from none sailors to sailing experts. Land-yachting activities range from taster session, to full on training with options of individual and small group sessions by the hour to corporate activity, group and stag /hen party days.
Landyachting is a cross between go-karting and sailing, everyone can do it and you don't even get wet!
Check out Our You Tube video of this session here
For more information on Windsport land-yachting  contact Windsport info@windsport.co.uk