Dart 18 catamaran sailors across Europe and further afield are carrying out their final preparations before heading down to Lake Como for the 2018 Dart 18 World Championships.  This is a gentle almost 'final call' for those teams who have not yet committed to joining this event.  Don't miss out – It is still not too late to sign up via the Worlds event website www.dartworlds2018.com  and you can then join in with the amazing scenery, great racing and of course the unbeatable socials.   The event is expecting close on 100 +  teams from regional sailing clubs around the world.  The Dart 18 catamaran remains one of the most popular club racing catamarans on the world market  and the 2018 Dart 18 World championships will attract catamaran sailors from every level of catamaran sailing.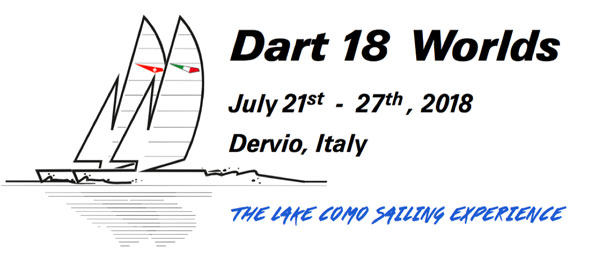 The Windsport team, manufactures of the Dart 18 will  be providing a comprehensive technical support service to keep sailing teams on the water during, supplying replacement parts, workshop facility  and technical advice.
With the Dart 18 catamaran class attracting an increasing number of younger sailing teams who enjoy the simplicity of maintaining the Dart18, the close racing and friendly social  the class has  much to offer  young couples and sailing families.
For more information on the 2018 Dart 18 catamaran World Championships  Lake Como , visit. www.dartworlds2018.com
For more information on Dart 18 class sailing in your area  contact Windsport:- info@windsport.co.uk