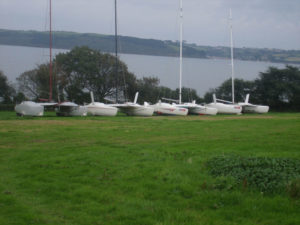 The Windsport September is one the Windsport team will not forget! The month was dominated  by the International "C class" Championships  (ICCC).  Preparation  pre the event started  in late August with a variety of support  services being introduced , team  marquees being erected and teams arriving to the pit stop village and  atmosphere. Throughout the  two week event the Windsport team dedicated itself to providing  as much helpful support to the individual teams, media and visiting public as possible on and off the water. The  C Class teams have moved out and after a week of getting back to normal the marquees, event village and infrastructure have gone but the inspiration lives on. Windsport is almost back to normal and the boat park areas are now filling up with winter boat parking . First in are the Falmouth Firebird fleet  with Cornish Shrimpers and other boats on trailers arriving over the next few weeks.
Windsport is a great location to  winterise your boat each year  The Windsport team are always there to help, be it slipway recovery, wash down, de rigging and storage undercover or outside.  You can be as independent as you like at Windsport, do your own thing or bring in your chosen expert.
The next few months for Windsport are  about  carrying out facility maintenance, winter coaching and preparation for 2014.
Windsport will keep you informed on progress!!