Category: Dart 18
Six  teams from the UK Dart 18 class association were the fortunate winners of the Windsport sponsored Dart 18 coaching weekend this October
Blue skies, and soft winds greeted the teams as they rolled into the Windsport coaching centre based at Mylor Harbour , near Falmouth.   A warm welcome was laid on by the Windsport hosts in preparation for two days of intense  coach training along with near perfect conditions.  The weather forecast did just what it said it would do,  starting with  a flat calm on the first morning building to a gentle breeze by the end of the day .
By the time  the shore based activity  and discussion was completed , followed by a Rib ride lunch to St Mawes, the wind had started to fill.  It was just perfect for putting into practise those light wind techniques that had been talked about earlier in the day .  The squad sailed late into the afternoon with just enough time to debrief pack boats away and head down to the local hostelry at the harbour to share a evening meal while England did its best to stay in the Rugby World Cup.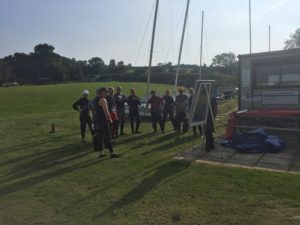 Sunday morning was an early start with boats launched and heading out to the training area by 9.30am and a fresh breeze greeted them, blowing in from the sea.   The building swell soon had teams developing their  techniques and skills as the coaching exercises became even more challenging. The squad headed out towards the bay with challenging waves keeping everyone on their toes as they went through both upwind and downwind drills and with both tactics and boat speed being paramount to their growing awareness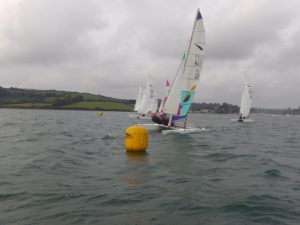 With boats to load onto trailers and many teams having 300 + miles to travel home everyone was on their way by 4.00pm, tired but challenged. Windsport performance coach Brian Phipps said," The measurement of a successful coaching session lays with the teams response, but my plan is always to send teams away , with a shared experience of things they want to work on, techniques they had not considered and exercises that have raised their game + a lot of fun in the process".
The UK Dart 18 catamaran class is one, if not the best, supported  dinghy / catamaran classes in the UK.
There are not many classes that can boost a support program as comprehensive as that enjoyed by the Dart 18 sailors in the UK.
The manufacture Windsport  recognise the importance of  making sure  Dart 18 sailors have the best support to keep them sailing. Working with the UK Dart18 Class Association (UKIDA)  Brian Phipps and his team provide an annual support package that reaches all Dart sailors .
From their base at Mylor near Falmouth Windsport provide a first class online replacement parts service, alongside a personable technical support line via phone , email and other  social media.
Windsport  support 80% of Dart 18 sailing events , with a comprehensive spares and technical  support trailer and work shop, making sure sailors enjoy their weekends racing.
The  two day sponsored coaching weekend hosted at the Windsport training centre provides one of the best training locations in the UK with a wide variety of sailing conditions supported by great coaching equipment and expertise.
To be part of this exciting program , buy yourself a Dart and join the UK Dart18 Class Association (UKIDA) in 2016.