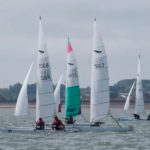 The Windsport Youth Trophy is awarded to the highest placed YOUTH team in the Dart 18 UK National Championships.
Congratulations to Chris Goymer and Jenni Donavan in Dart 7068 (Maloo – it means "raining thunder")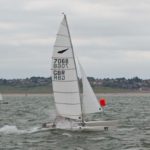 Eligibility : team members must be 21 years or under at the start of the event.
Windsport has been passionate about catamarans, and particularly getting youth sailors involved, for many years. Brian Phipps has worked and trained with many young catamaran sailors and enjoyed some fantastic achievements, as well as the pleasure of "just" introducing" young sailors to catamarans.
The Dart 18 has been an important part of our lives for more than 30 years, from being involved in the very first built production boat, racing and competing, training and supporting and enjoying the success of Tom winning the World Championships in Weymouth 2010.
We have much history with the fleet and hope to support it for years to come.
Congratulations to the winner of this perpetual Trophy, keep sailing and competing, but above all enjoy the fleet and all that comes with it.
Happy Sailing
Brian and Cookie Phipps
Windsport Team
Please look after the Trophy and pass it back after your year for the next successful YOUTH team, thanks