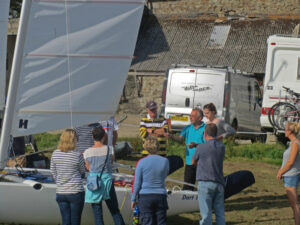 Busy time for the Windsport coaching team over the next few  weeks .
Wndsport's reputation for performance catamaran coaching and coach support, attracts a wide range of sailors, clubs and classes.
Over the next few weeks the coaching team is at full stretch with  personal coaching sessions for improving club races taking place at the Windsport home base in Falmouth.
This week  we will be running a club coaching for Dart18 sailors at Sheppy YC in  Kent followed by technical  event support for the Dart 18 event at the same venue.
Then we are down to Weymouth to deliver Olympic team training in the run up to the ISAF World cup event followed by team event support at the same venue.
Short break and we are out to Denmark with some further coaching over there  and back to Parkstone Yacht club  for an intense 3 day coaching session with the catamaran fleet there.
Structured training / coaching is the bases of all performance improvement,  whatever your sport.
The Windsport catamaran coaching team are committed to delivering that support across a wide range of catamaran training requirements, from club and class to Olympic sailing.
For Windsport coaching information call +44 (0) 1326 376191. Email info@windsport.co.uk