We currently have the following Used Shrimpers which we are helping their owners to sell to a good home.
You are welcome to call down at Windsport any time to talk Shrimpers , Shrimper sailing and anything else to do with Shrimpers in and around the Falmouth area.
If the boats  below do not suit your requirements let us know your target purchase price and we will keep you up to date with any other possibilities.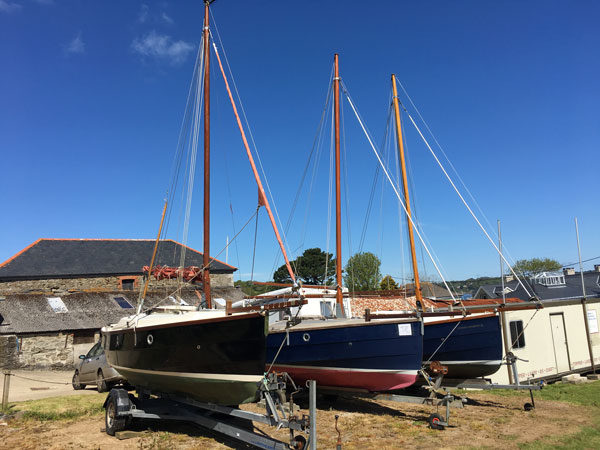 Cornish Shrimper Mk 1 Outboard, Sail no 127
Location : Windsport
Price £8000 – ono
Seller: Private Boat Owner.
Accessories to be included :
5hp Yamaha 2 Stroke Engine (Fits in Cockpit Locker with Bracket, Professional Service Annually)
Plastic Fuel Tank
Excellent Condition Suit of White Sails from SKB new in 2016 (Plus older tan set)
Mainsail/boom cover in good condition
Running Rigging (removed annually and stored indoors)
Cockpit rain cover and tiller cover
Washboards
Camping stove
Cockpit Tent (Cornish Crabbers)
Whisker Pole
Cabin Cushions and bunk extenders
Boarding Ladder
NASA Echo sounder (Not recently tested, no 12V Battery)
Break back road trailer – Only crane lifted since last major service in 2015 Anchor and Chain
Assorted warps and fenders
Shrimper Urchin  Sail No. 81
Price £7,995  ono.
Seller: Private Boat owner
Location: Windsport
A Mark 1 Shrimper with Tan sails, Blue topsides.  Fair condition for her age  comes with a launching trolley  for winter storage and winter boat cover  Excellent Yamaha outboard engine and other various bits of  Shrimper related equipment.
                  Available for viewing  onshore at  Windsport by arrangement. 01326 376191 info@windsport.co.uk
                  Well worth a viewing.
Shrimper Annie – £11,000 (SOLD)
"Annie is reputed to be the 1992 boat show model so it was finished to high standards with all extras. She is black with cream top sides, tan sails, sail cover  and varnished teak trim(Main "& jib (+spare), all in good condition.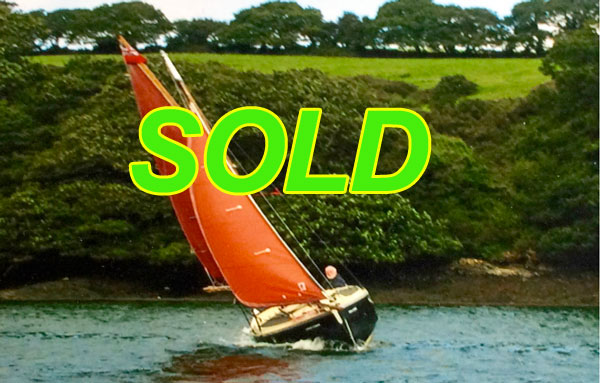 Comes with :
*  1991 Lizard 'break back' Two wheeled road trailer. Good tyres and  a spare wheel & tyre.  (NB Will need a Tailboard for towing). The  (trailer has been serviced after every launch/retrieval, bearings washed and greased.
* Outboard model with a 8 h p two stroke Yamaha (2006) and fuel tank
* Avon Inflatable tender with a 2hp Yamaha outboard and paddles
* A Winter Cockpit tent and cockpit cover, plough anchor with chain & various warps Also 2nd Anchor, gas 2 burner stove with a calor gas bottle, 2 compasses, fenders, warps etc. A Garmin 72 GPS, 'Wasp' Trailing Log,  auto helm 1000, depth sounder, handheld VHF. There is an ensign, Metal Boat Hook and a  spruce spinnaker pole.
* Spares, include  jib, spare bowsprit and a  spare iller. Winter sail cover, and Unused Porta Potti chemical toilet..
The condition of this 1992 Gaff rigged boat is very good and she is sitting on her road trailer ashore locally in Mylor not at the Windsport Center.
"Annie"  has been polished, varnished and anti-fouled ready to rig and launch or to drive away. A copy of the Cornish Crabbers Shrimper Handbook is included to assist with rigging and maintenance.
Tempoary use of a Mooring in Mylor Creek is possible for the remainder of this Summer.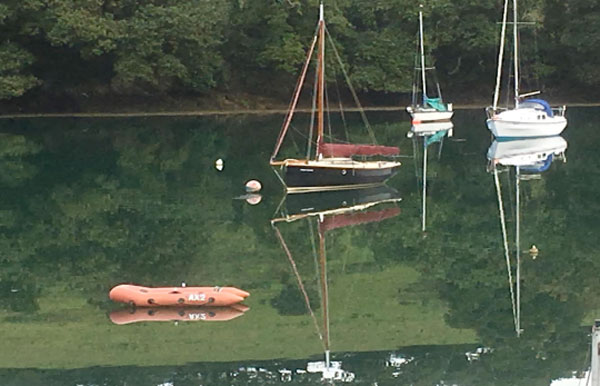 Available for viewing  onshore via  Windsport by arrangement. 01326 376191 info@windsport.co.uk
                Well worth a viewing.
Shrimper Troika Sail No. 942 , (SOLD)
Blue topsides. One owner from new , with a list of accessories that you need to see to appreciate.  Inboard version , little used , kept in very , very good condition , copper coated antifouling ,  beach trolley  winter cover etc.  If you are looking for a really good little used boat that has been loved this is the boat for you.  See pic 1499
The boat is onshore at the owners residence  beside  Restronguet creek.  Please call Windsport to arrange a viewing or for more information  01326 376191 info@windsport.co.uk
Owners sale price  £20,500 ono.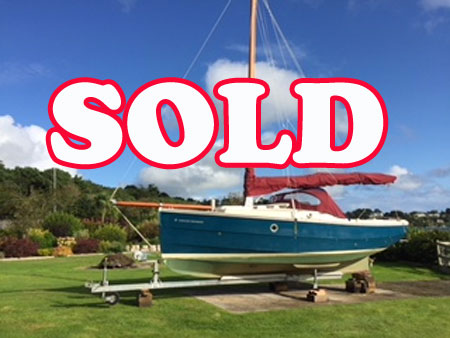 Shrimper Vagabond SN. 355 – SOLD
Cornish Shrimper 19′ (owners boat)
Great local boat  to Falmouth Harbour that has won many of the Shrimper races over the years. Owner sadly selling for health reasons. Great boat in good condition  at a very realistic price.
Inventory includes :-
Inventory,
SKB SAILS – three seasons old, all in good order.(Serviced annually by SKB)
Yamaha 5hp 2-stroke outboard. (Serviced annually by Robin Curnow)
Anchor, chain and rope -Fenders, warps, whisker pole.
Bunk cushions.
Emergency Boarding Ladder.
Compass, flares, additional lines.
Integral sail and cockpit cover, A2 made, two years ago
Price:- £7,000
Optional.
Old PLASTIMO Tender, 6' with wheels and with 2.5hp 4-stroke outboard in poor visual condition, in working order -£350.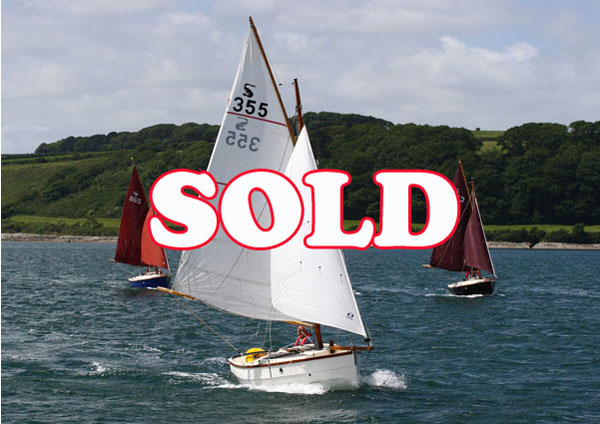 01326 376191 info@windsport.co.uk
Shrimper Winnie SN 736 (SOLD)
Cornish Shrimper 19′ (owners boat)
Inventory includes :-
Outboard engine,
Anchor and Warps
Beach launching trolley
Fenders
Winter boat cover.
Price:- £12,500
01326 376191 info@windsport.co.uk