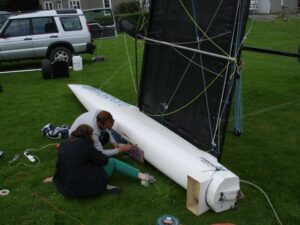 Windsport's specialist high performance  repair team  help round Britain solo catamaran sailor get back on the water after a damaged hull forced him to look for repair support whilst sailing along the Cornish coastline. A phone call from Chris Brooks who is attempting a solo round Britain sail in a performance beach catamaran  in support of Childline, brought the Windsport repair team together to get him back ready to resume his challenge within 24 hours of arri ing at the Windsport beach, Mylor Harbour, and getting the boat to the workshops.
With the keel line fixed the  and hull vacuum tested the boat was ready to start sailing again subject to favourable wind conditions.
The Windsport team wish Chris and his support team all the best in their epic challenge.
Follow his Progress: http://www.sailingroundbritain.com/