Tom Phipps reflects on all that is good about F18 sailing while taking time out from his Olympic campaign with Goodall catamaran products and Windsport technical support.
"Having spent so much of my time in recent years on the Olympic charge, it's a welcome change sometimes to jump into another catamaran class and go for a slightly less time demanding style of catamaran racing.  Note, when I say 'Jump into another catamaran fleet, I really mean it.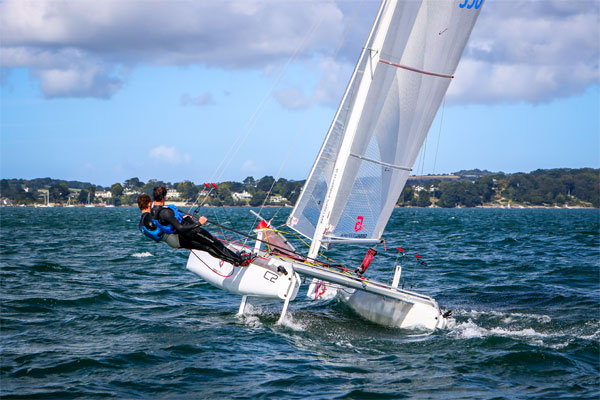 © Tom Gruitt – ref Fernhurst Book – The catamaran book
Like all of us these days time is so precious, so like most people when you can get hold of a spare boat all you ever want to be able to do is put it together, rig it up and hit the water.  In the Olympic world we spend days, maybe even weeks preparing a brand new boat before we deem it sail/race able.  This is where the Goodall C2 and Viper catamarans excel.  Having recently sailed the F18  Goodall Design C2, I can honestly say I was massively impressed with how set up and sailable it is straight from the box.  This success has come from the Goodall teams knowledge and experience over many years working alongside some of the sports top cat sailors.  The Goodall team have seriously managed to streamline and simplify everything on the boats allowing it to seamlessly move into prime racing condition right from the start.
The platform assembles effortlessly straight from the box.  The control lines and adjusters work beautifully and fully appeal to my mildly OCD nature by tiding themselves up on various elasticated fly away systems. All the ropes are of good quality straight from the factory including the use of tapered line where possible to minimise drag meaning no need for hours spent wrestling with a fid to make up all the race spec lines we all want!
And then there is the boats on water performance.  Having sailed a few different brands of F18 now, I can safely say the C2 is no slouch!  You might expect in the F18 fleet certain boats to have certain conditions where their performance excels, but the time I have spent in the C2  suggest she is competitive within the whole wind range.  The rig and sail combination work very cleanly together and make it very tuneable for a wide range of crew size, weight and sailing conditions. When  I raced the boat with a good friend of mine, together we were fairly small in F18 terms, but we were both really impressed with how manageable the boat was at the top of the wind range.  Setting up the rig and managing the dagger board heights meant even us "feather weights" were quick in the breezy stuff.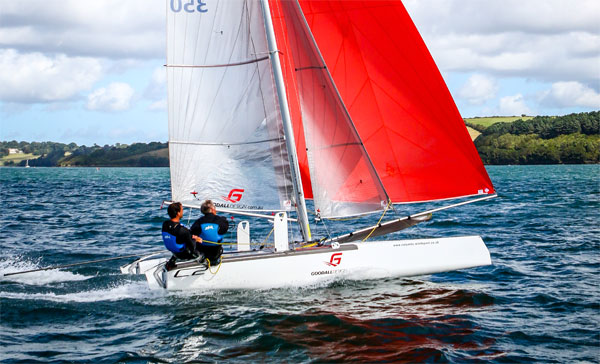 © Tom Gruitt – ref Fernhurst Book – The catamaran book
Of all the high performance catmarans I have rigged out of the box this is the best I have experienced.  It is perfectly race ready, in both set up and performance! The C2 offers the ideal rig setup and race options for a f18 sailing team looking for a high performance catamaran where you spend maxium time on the water and minium time in the boat park!"
If this style of high performance low hassle catamaran sailing appeals why not take up Tom's open invite to  "Come on down to Windsport and have a go yourself.  If you time it right and I am around I will gladly take you for a spin"!
Cheers Tom P
Tom Phipps is also one of the Co Authors of the Catamaran Book –  An invaluable guide to improving and getting the best out of your f16 & f18 sailing.