Windsport supported the Sprint 15 and Dart 18 stands at the 2012 RYA Dinghy Show with the full Windsport Family Team!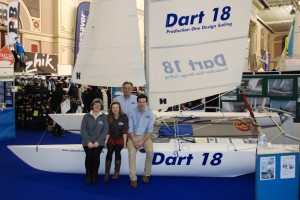 Brian, Cookie, Tom and Katy Phipps were on-hand each day to answer questions, offer advice and show off their new UK built Dart 18 product.
A free WINDSPORT competition for 2 days of catamaran sailing was launched, open to everyone interested in catamaran sailing at any level – you can still enter until 31st March 2012 online from the Windsport Website www.windsport.co.uk
The show is always a good start to the season – a stage to promote an exciting year of new products and activities. Windsport offers the whole package to anyone interested in catamaran sailing.
NEW & SECOND HAND BOAT
COURSES & TUITION – for all levels from novice to expert
TECHNICAL SUPPORT
REPLACEMENT PARTS
REPAIRS & REFURBISHMENTS