Since the Windsport team took on the dealership for the Australian  Viper and C2 catamarans, the ultra performance cat team have been very busy.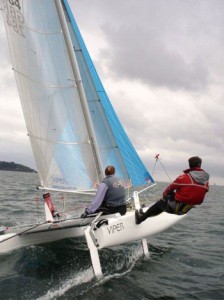 Sales of Viper have out stretched availability until the end of the year, the current RYA Olympic development catamaran squad  selected to train on Vipers while the Nacra 17  comes on line and is delivered, demonstration requests for trial sails on both the Viper and C2 (F18) are keeping the team busy.
The next  UK Catamaran event where we plan you can see the  Viper and C2 sailing is the Weston Catamaran open in early November. If you are keen on a trial sail and the opportunity to chat  with a member of the Windsport team during the event this could be  a great opportunity . If you are serious about sailing a Viper of C2 in 2013 contact the Windsport team direct and get the facts.
Call the Windsport team:- +44 (0)1326 376191 email:-info@windsport.co.uk