UK Dart 18 National Championships
The UK Dart 18 National championships celebrate 40 years of Dart 18 sailing at Stokes Bay Sailing Club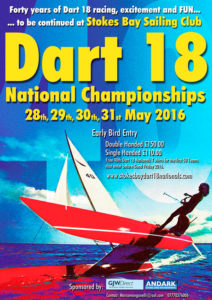 this coming bank holiday and  a host of sailors from over the years will be there to race and join in the celebrations.
If you have not already entered  you need to get your on-line entry form in right now to be part of the event.
Entry Fees:
For those of you intending on competing in the 2016 Dart 18 Nationals but have not yet entered, you have until midnight 20th May 2016 to take advantage of the £175 (£135 Single-handed) entry fee.
As from 21st May 2016 the entry fee increases to £190 (Single-handed £160).
Please also remember to pay for your camping at the same time as your entry.
Full details of the event can be found on the Dart 18 UKIDA Website  here
Windsport Dart 18 support trailer will be on site from mid day on Friday 27th May to keep sailors on the water. The Windsport trailer and technical staff will be on hand during the whole event to answer questions, help with boat maintenance and even sell you a new race winning boat !!!
40 Years of Dart 18 sailing, racing and championships are well worth a celebration and will only come around once.   So make that special effort to be there – as always you will be rewarded with great sailing, great atmosphere and great socials (only better!!),  plus you will be able to say " I WAS THERE"
Contact Windsport  if you need any replacement parts taken to the event ready for collection.  Click on the following link to get your order in before Monday 12.00pm to save on any delivery charges.   http://www.windsport.co.uk/modules/catparts.php 
We look forward to seeing you there!!!
The Windsport team.