You certainly don't want a soggy shrimper!  A local Shrimper sailor in Falmouth was a bit concerned about the growing amount of water he was finding on the cockpit floor between sailing sessions.
Careful investigation by the Windsport workshop team highlighted it was fresh water  and it was coming through somewhere beyond the forward bulkhead.  It was a great relief to the owner who was thinking it was possibly the centreboard casing and below the water line!
Following a discussion with the owner the Windsport team removed the forward bulk head and fittings.  We tracked the deck leak down to a fault with the anchor well scuppers.  The solution was then to replace the perished flexible tubing linking the deck and hull skin fittings.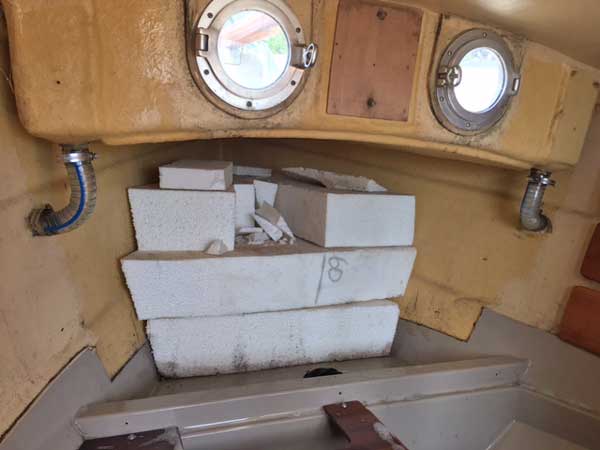 With the leak made good it was just a question of putting everything back as it was  originally and we relaunched it and returned it to its mooring.  Finally it was just letting the boat owner know everything was ship shape, no more soggy shrimper and his boat was back on its mooring and ready for action.
If you want to find out more about the great local Cornish Shrimpers scene you can check out the Falmouth Shrimper Association Facebook page – If you want to get competitive then check out the racing at Mylor Yacht Club and for any repairs or boats for sale keep an eye out on our web site or speak to any of the Windsport Team.