Item 1:- Windsport Shrimper  Winter heavy duty cover. Designed to protect you boat from all the elements there are some unique  features  incorporated into the design. The cover can be fitted mast up or mast down:-
1)     Access to the cockpit can be via the shroud plate side zip
2)     The side skirts come are designed to come right down to the boot line to protect gelcoat from UV
3)     There are  air vent  slots to allow air circulation.
4)      The cover material is tough providing years of service.
5)     Standard stock colour Blue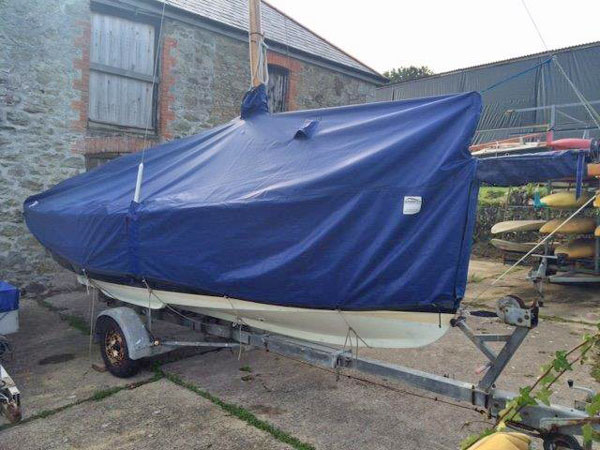 Item 2:- Windsport Shrimper Boom / Sail cover, quality fabric with ample material to protect your sail without crushing it.
1)     Quick release clips
2)     Cut out for the peak halyard
3)     Long neck to protect the mainsail luff
4)     Standard stock colour Blue
Item 3 :- Windsport Shrimper coaching and training. No matter what your Shrimper sailing experience there is always something to learn and compare. The Windsport team go from a Shrimper sailing experience to advanced Shrimper racing skills! And off the water from launching and recovering your Shrimper to stepping the mast and bending on sails starting your engine and basic owner maintenance. Call for tuition details.
Item 4:-  Shrimper Flyaway Jib pole kit. Finding it a challenge to pole the jib out downwind? Do a lot of single handed sail? With the "Windsport flyaway jib pole kit" you can pole from the cockpit by pulling just one line.  The kit comes with fitting instructions, carbon fibre pole and all the fixings. If you are close to Windsport Falmouth we will even fit it for you at our workshops.
Item 5:- Shrimper telescopic tiller extension. The beauty of the system is you can sit where ever you want to in the cockpit and still steer without stretching. For racers  that allows you to balance the boat both fore and aft as well as side to side, for cruisers it is just added comfort
Item 6:- Mainsheet ratchet block and cleat.  The ratchet block system that can be released to freewheeling at the switch of a button  removes the mainsheet load when the wind is up. For the racers it gives added control and adjustment of the mainsheet for the cruisers the security of not needing to use or release the jamming cleat.
In  a gust of wind.
1)     Ratchet switch on or off
2)     Adjustable gamming cleat height
3)     Ball bearing sheave system
4)      Swivel base.
Item 7:- Windsport Shrimper Storage  summer or Winter / Short or Long term.
Item 8   Windsport Shrimper replacement Hyde sails.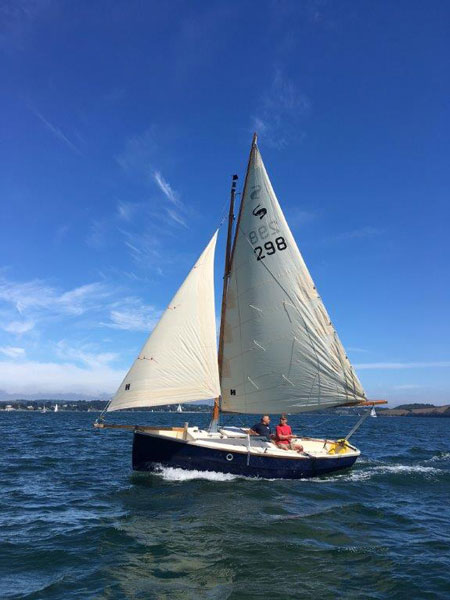 Item 9.  Shrimper blocks, cleats, halyards and lines.
Items 10. Shrimper centreplate and rudder plates
Items 11. Shrimper replacement stainless steel shroud plates, skeg plate, outboard clamp plates, almost anything that is needs replacement in stainless steel.
Item 12.  Shrimper  shroud adjuster set
Item 13. Shrimper mooring Strop
Item 14.  Shrimper cockpit cover Mk1
Item 15  Traveller conversion kit.