The Season ends at the final UKIDA Dart 18 event  of the year @ Parkstone Yacht Club.  It  produced a great Dart 18 turnout with thirty three boats taking part.  Thanks to all the Parkstone  race and organising team involved for laying on some great racing on the Saturday.  Clearly everything was to play for for not only the event but also with the overall 2017 titles at stake and it did not disappoint, in the upper triangle, with close finishing.   Some might have said the Windsport sailing team were on-fire but it was only as long as they could get their eye in on the start line! (must go to Specsavers)
The milestone Dart sail number 8000 was finally delivered to an immensely proud new owner Fi  and that means the only question now is who will own 8001?
Sunday was a great day for sunbathing and chatting but not so good for racing so an early  prize giving out on the terrace delivered a fitting finish to the end of a sensational sailing seasons of GP events.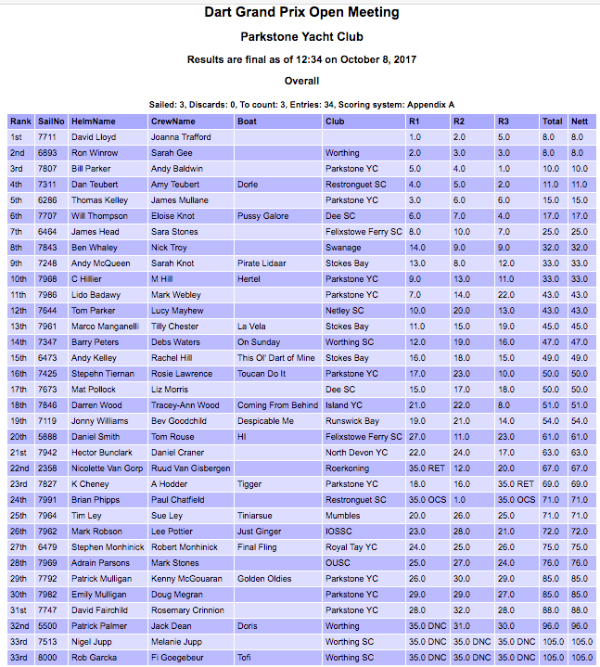 The 2018  Dart 18 class racing program is already on the class website, including the dates of the Dart18 World championships @ Lake Como, a must for all Dart sailors, families, and hanger-oners!.
Windsport will be talking to the UKIDA committee soon about  which UK events the Windsport  event support trailer will be attending in 2018 in the meantime club racing continues around the country and Dart 18 sailing continues to attract a growing number of  mixed sailing teams to the fleet of all ages which is what the Dart was all about when it was first launched .
To keep in touch with Windsport visit our Windsport website, facebook page and Catparts online shop.
Looking forward to more good times on the water
The Windsport team.