We have a new deal available if you are looking fora set of race winning new sails for your Shrimper from Windsport/ Hyde  in time for 2018.
Windsport has negotiated a second great offer new sails saving with Hyde Sails for 2018.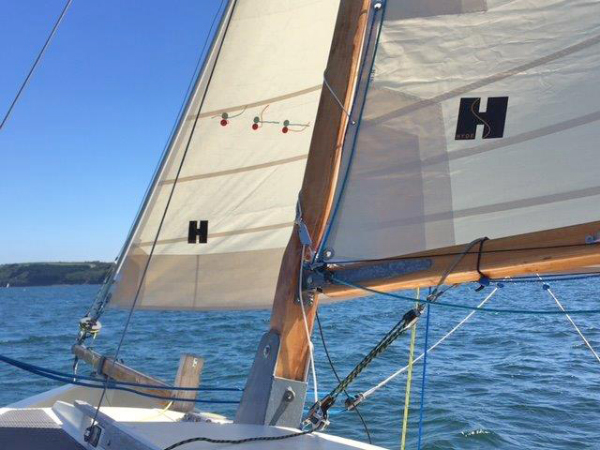 As many Shrimper sailors will know  a number of the leading Shrimpers on the race course are using Hyde sails  supplied by Windsport.  The new deal offer is limited but if new sails are on your wish list now is the opportunity to take advantage
Hyde are one of the leading sail designers and manufactures and Windsport has  been working with their team to give the Hyde Shrimper sails that extra turn of performance as shown in the results this  season.
The Hyde sails "Shrimper owners winter special new deal"  not only saves you money  but also provides you with the a key tool to move you up the fleet.  Hyde sails are designed to be strong, durable and fast – something all Shrimper sailors like the idea of !
Here are the facts, but if you need further information just call the Windsport office.
Shrimper Sail specification :-
2017/8 specification, 2 x reefing points, cross cut construction, sail bag, insignia, sail number included.
Colour options :- Tan, Cream, White.
Note :- Windsport will need to know the jib luff bolt rope size on your boat.
Standard Shrimper Mainsail price £465 + vat
Standard Shrimper jib price £280 + vat
Optional extra
UV sun-strip per sail  £85 + vat
Option 1:- Place your order with Windsport before 31st October 2017 and save 20%
i.e. Mainsail £372 + vat, Jib £224 + vat  saving £150
Availability:- All orders will be ready for collection on or before 29th March
Payment :-50%  when placing your order with balance to be paid on or before the 29 March 2018
Payment system BACS.
To confirm  your order please complete the attached  order information.
Look forward to see you on the water in 2018 .
Windsport team
Shrimper Ysella  SN. 298.
Windsport / Hyde Shrimper Winter sails order.
1 x Shrimper mainsail – colour _______  sail number_______
1 x Shrimper jib  – colour_______   luff bolt rope size_______
UV sun strip Yes/ No.
Collect Windsport yes / No
Ship to owner Yes / No
Customer details
Name
Postal address
Email
Contact tel. number.
Payment details.
Please make all payment via BACS on or before option cut-off date.
Lloyds Bank
Sort:- 30 98 76
Account:- 00886734
Any questions contact the Windsport office 01326 376191.