The success of the  UK Catamaran racing Association stand (UKCRA)  at the recent RYA dinghy show , was just one indicator that UK catamaran sailing is regaining popularity at all levels of sailing. The stand was constantly dealing with enquires from  sailors new to cats, thinking cats or already on-board and wanting additional information.  UKCRA  promotes and provides links to all affiliated UK catamaran classes, manufactures, dealers, sailing clubs and training centres.  They also offer a  UKCRA "catamaran charter program" designed to help clubs  establish their own catamaran training program.
The 2015 UKCRA "Cat friendly Sailing Club"  initiative has brought together a growing database of clubs with active catamaran fleets  along with clubs that wish to expand into cat sailing.  The data base is available to all future catamaran sailors and UKCRA affiliated  clubs and a great resource to promote your  club catamaran open meeting and events. It is a valuable guide to those moving into catamarans with contact details , club fleet information and  catamaran training programs.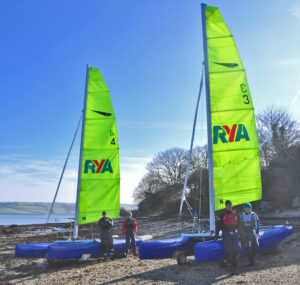 The healthy and expanding UK Junior and Youth  catamaran program was on display at the Spitfire class stand, for more information on joining either of these programs visit www.youthcat.org.uk
Strong  UK classes like the Dart 18 and Sprint 15  expressed a health interest of new sailors, with good second hand boats quickly snapped up and  class sailors planning a healthy open meeting campaign. These classes and others run regular class training programs to speed up the learning curve for new class members.
The superb and high tech  A class catamaran class was on show, along with the Hurricane 5.9 SX, and Olympic class Nacra 17.
UK catamaran sailing is looking forward to a busy cat sailing season, and expect to be back next year at the dinghy show  with more  class stands and other promotional catamaran activity.
For more information on UK catamaran sailing visit www.catamaran.co.uk