The 2015 Grafham Catamaran Open, saw success for the latest boats supplied by Windsport to the Dart 18 and Sprint 15  catamaran classes.
Mike Gomme crewed by Sarah Stones was sailing his new Dart18 catamaran, supplied by licensed manufacture Windsport  in the last few months, took line honours in the Dart 18 Inland championships while Stuart Snell in his Sprint 15  catamaran lead the fleet of 29 other Sprint 15 class sailors to a win the Sprint 15  Inland championships.
Windsport took over the production of both  classes a few years ago and have steadily  re-established all the supply and production back in the UK after the previous manufacture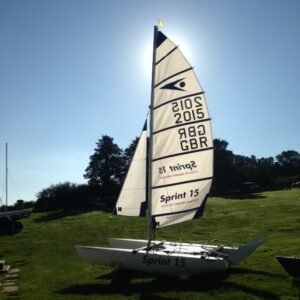 moved supply elsewhere.   The quality and  attention to detail of these "production one design" catamarans is key to their success and whilst there are many used and second hand boats on the markets there is no doubt  as with anything supplied new you get the best of what is available to race with when new.
There is no better time to join these great catamaran class fleets, invest in a full race spec boat and kick off the 2016 sailing season with a fast boat and fast sailing.
Link to Yachts and Yachting Dart 18 Report –here
For more information contact Windsport:- info@windsport.co.uk +44 (0) 1326 376191