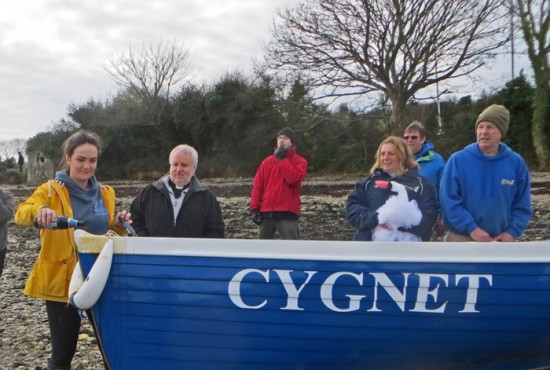 It was great to see the the launch and blessing of the new Nankersey Rowing Club fibreglass gig "Cygnet" funded with a grant from Sport England. The blessing took place on the Windsport Launch area at Mylor Harbour with Gigs from Flushing and Mylor and St Agnes attending for a toast and mince pies.
Nankersey Rowing Club has successfully based itself from the Windsport Centre for over 4 years along with the St Agnes Pilot gig club it has highlighted how ideal as a venue the Windsport Centre is at offering a convenient and flexible location for both regular and specific watersports activities and events.
Nankersey RC  is a community-based sports club offering adaptive rowing to all age groups rowing from Windsports, in Mylor  Yacht Harbour at the weekends and evenings as the light allows. If you fancy trying out gig rowing with the club check out their website for more details: www.nankerseyrowingclub.com.