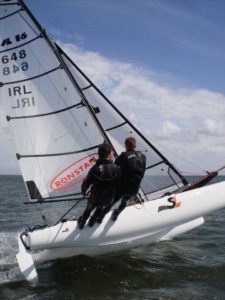 The Irish ISAF youth SL16 catamaran team , Alexander / Rory , have been doing their final training in La Buale, France  in the run up to the SL16 World championships  followed by the ISAF Youth World Championships.
Windsport coaching and team support has been very much involved in this Irish teams multihull  training coaching in the last 6 months to raise their game in preparation for two major sailing  events.  Alex and Rory come from other disciplines of sailing  and found it a testing challenge to take on the top level skills required to perform in catamaran sailing. Determination and focused coaching from the Windsport team  has propelled them on their way and we wish them every success in these two major event where they will be sailing against the very best youth catamaran sailing teams in the world.
Windsport catamaran performance coaching is available to any sailor , sailing team, club, or national squad.