The Goodall C2 is the benchmark no excuse racing machine
With over 30 years of catamaran design experience Goodall are  continually orientated this towards pushing the f18 performance envelope in the shape of the C2.
The Goodall C2 is the racing machine for those who what to push hard. Incorporating wave-piercing technology, the high volume bows provide a stability that allows sailors to drive the boat harder and faster with confidence.
During the F18 Worlds, the C2 again has proven to be very fast. With a 2nd, 3rd and 4th place overall.   All three C2's sailed with the original Goodall Design decksweeper sails, which proves that the platform's is perfectly balanced to get the best performance.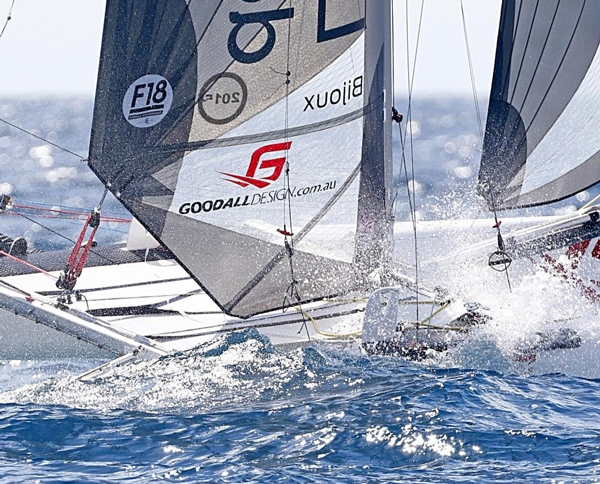 And now comes the best news! For 2019, all our C2's will be further pushing the f18 performance envelope by being delivered in epoxy and convertible ready for foiling!!!
We have worked hard to make sure the convertible aspect would not be a disadvantage in F18 racing. Our C2's will have convertible dagger board cases that allows you to switch top and bottom bearing to fit foils. And when sailing in F18 modus, compared to other brand designs, our centerboard cases won't be a big open box that can fill with water and reduces flotation capacity of the hull! We have come up with a completely removeable centerboard case, which perfectly fits the straight board through the hull from top to bottom.
And while redesigning the centerboard case to make it convertible, we have used the opportunity to move the straight board position a little more to the front, which was necessary to improve the performance even more with the decksweeper evolution. The straight boards have also be redesigned to have less drag. Both new centerboards position as new straight boards have been tested in 2018 and has proved to give better speed!
The production of the first convertible epoxy C2's is already finished, which means first boats will be deliverable in very early 2019 for those who wish to start training as early as possible.
Keep up to date with Goodall Design C2 developments here at www.Windsport.co.uk and on the Goodall design instagram page