Go Cat sailing @ Windsport 2019.
There is a lot going on at Windsport Falmouth for catamaran sailors in 2019.  Alongside the many catamaran tuition and coaching programs, we offer throughout the year, Windsport will be providing support for a number of other catamaran / multihull events.  These will all take place from their stunning centre location at Windsport Falmouth, next to Mylor Yacht Harbour.
The number of places / entries will be limited,  so if any of this multihull activity tickles your fancy it is  best to register your interest by email now with Windsport and put the dates in your diary.
Here is a heads up on events 2019 .
1)    "Windsport Dart 18 UKIDA Training Session "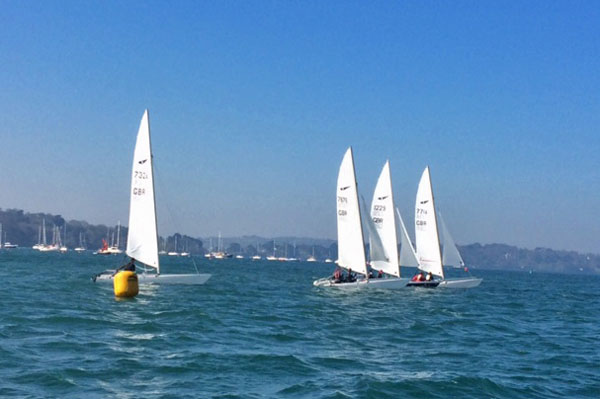 Date 18/19th July – A Dart 18 specific coaching  session sponsored by Windsport. This is the one event each year where Dart 18 sailors who are keen to sharpen their race skills get  professional coaching from some of the most knowledgeable catamaran coaches available.  The two day program takes place from the Windsport Falmouth facility and includes free camping if desired.
The shore-base and on-water program makes use of Windsport's unique facility and catamaran sailing area in and around Falmouth.  The number of places is really, really limited  so register your interest by email asap. More details to follow shortly via  the UK Dart 18 class association.
Date 18/19th July  NOTE. This coaching session is followed at the same location by the UKIDA GP 5 event and SW championships. 20th/21st July.
2)    "Dart 18 SW Championships & UK Class Association GP5 event"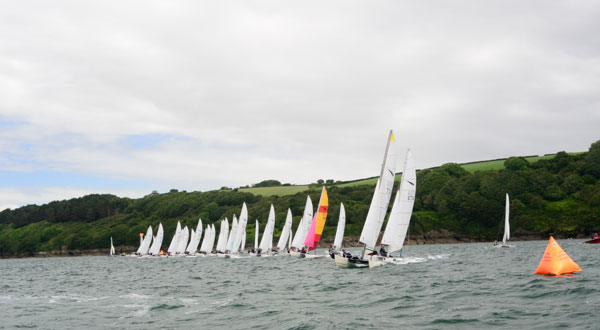 Date: 20th/21st July.   Come and join us at one of the most spectacular catamaran sailing locations in the UK.  Bring your own Dart 18 or beg, borrow (don't steal) one to enjoy this great event with loads of racing, fun and social activity.  The event is open to all Dart 18 sailors from anywhere within the country and further afield. More details will follow but camping and motorhome parking will be available on site FOC and the Windsport team will be on hand to make sure you make the most out of your trip to our very special part of the world.  Family, partners and friends are welcome and there is a plenty keep you entertained, fed and watered around the area other than catamaran sailing!
As in previous years the  maximum number of entries will be limited so again register your interest early with Windsport by email, book the date in your diary and you will be first on the list to receive the NOR.   Last time Windsport hosted this event we were oversubscribed!
More details / NOR to follow soon.
NOTE. This event follows on from the UKIDA Teach In @ Windsport and will lead into the Regatta Week detailed below.
3)     "The Windsport Multihull regatta week"

Date 22-26th July – NOTE.  This multihull regatta week follows on from the Dart18 UKIDA  GP5 / SW championships event.
Ok this is a first for Windsport a whole week of messing about on the water in anything with more than one hull! The emphasis is on REGATTA not championship racing.

Open to all types of beach launched multihull with  a variety of on and off water activities, this really is a family style week.  This combo regatta week has a pinch of regatta racing, harbour challenges, coastal raids and time to do activities other than sailing.  All styles of beach catamaran / trimaran are welcome: fun cats, performance cats, high performance cats and foilers. Many of the locations we sail too are accessible by local passenger ferry or car for non-sailors, so we can all meet up for a pint and a pasty!
Camping and motorhome parking is available on location and for those who have not visited Windsport Falmouth before you are in for a treat with the focus on Fun, Relaxed, Enjoyment for the whole of your party.
Windsport is keen to ensure we are not over stretched so regatta entries are limited to under 40 boats. If you are keen to join in this unique multihull regatta register your interest by email early with Windsport and we will make sure you get priority event information before it goes public.

Add the date to your sailing calendar.
Date 22-26th July  NOTE.  This multihull regatta week follows on from the Dart18 UKIDA  GP5 / SW championships event.
For more immediate information or to follow up with any questions contact the Windsport  help desk:-info@windsport.co.uk  01326 376191
Register your interest with Windsport early by email to make sure you get priority information.