Sprint 15's future meets the Sprint 15's past
Current Sprint 15 chairman Ed Tuite – Dalton collected this new Sprint 15 and meet with Ian Fraser one of the original Spark design team.
A trip to Windsport, home of  Sprint 15, is on the list of things to do of some Sprint 15 sailors and no better time than when collecting your brand new boat!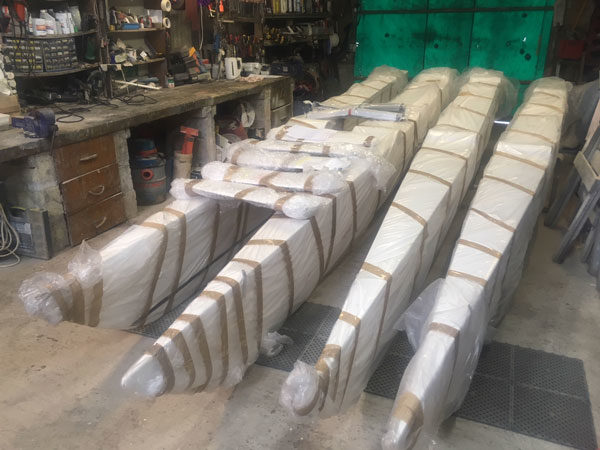 The Windsport team welcomed Ed and wife Sarah to collect Ed's new Sprint 15 in preparation for the first event of the Sprint 15 sailing season at Marconi Sailing Club.
As is always the case at Windsport the sun shone and the wind speed was just perfect for Sprint 15 sailing!  But loading a new boat, with care, takes precious time and other than signing it off there was only time to  enjoy a healthy walk along the beach from Windsport while taking in the opportunity to chat with Ian Fraser.  Ian Fraser is one of the original boats design team that developed this boat in this estuary 40 years ago.  
Then it was back on the road heading back up country for some racing at home club Draycote Water.
If you want the opportunity to bring your Sprint 15 back to its home Windsport will be hosting the only "Multihull Regatta Week" at the start of June with a mixture of round the cans racing , harbour raids and a costal trip.  This would be perfect for sailors and their partners to be able to share the experience in and around Falmouth Harbour and meet up at various coastal locations.  For more information on the Windsport Multihull Regatta Week contact the Windsport team.
The Windsport team wish Ed every success sailing his new boat.
Sprint 15's 40 years young just got even better!