Once again our roving Windsport Support Team gives us  their own impression of the Dart National Championships held at Felixstowe Ferry Sailing Club
The Windsport Dart 18 event support road train rolled into Felixstowe Ferry SC  car park late Wednesday night after our 8 hour journey from sunny Windsport in Cornwall ( I lie  it was raining and misty when we left , but a balmy evening when we arrived) the doors were opened up with boats being rigged all around.
Day one saw a light-ish breeze on a tide working against the upwind leg and a short chop, so tricky to keep the speed on.  The experienced Dart 18 sailors found the pace with Dave and Louise posting two safe 1st positons and other long term Dart sailors filling in the other top ten places.
The Windsport event trailer was busy first thing while scrutineering took place, not with anything major, but a good opportunity for sailors to get their boats sorted. All credit to Joe franks who sailed the first two races with a bridle chain plate held on by 2mm of s/s attached (see pic) and Matt with the "green machine" that he has lovingly restored and slowly replacing everything that can be replaced!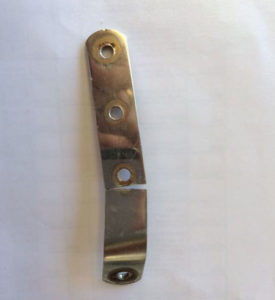 Day two and a bit more wind and just enough for some to trapeze with a tide under the fleet as they arrive at the start line . A couple of general recalls while the fleet get sorted and then two races  with a solid breeze up the last windward leg of the day to get everyone out on a trapeze for a quick airing. Well done to Paul Wakelin , sailing single handed, who recorded a 1st and a 2nd  great sailing from  a single-hander and we hope to see more like him in the future, watch out Paul Chatfield the single handers are on your case !!!
Big thx to the UKIDA committee, following the AGM. Sailors please note, YOUR committee do a huge amount over the year to provide you with events and sailing, turning up to the AGM is at best  the opportunity to voice your thoughts and at the least an opportunity to thank that voluntary team who work so hard for you and your class.
The UKIDA committee provided the entertainment with a games night  of silly and skilful games, like shooting golf balls, rowing races, limbo dancing and two person wellie walking. All good fun, a few pounds raised for the class and some very worthy winners. Sorry to say the Windsport team did not win the rowing race by quite a few seconds! Pic attached thx to Dan Tubert.
Day 3 ,
Ok now up to date, sitting here in glorious sunshine with a sea breeze that is starting to build. A 1 hour postponement  is up which is always good for Windsport business as sailors fiddle with their boats  and find things they need or should change. So far so good, whatever a sailor has wanted to replace on his boat we have been able to supply along with technical support and a bit of on shore coaching to encourage sailors towards improved results.
The protest by OCS boats against the race officer has been sorted and the fleet are leaving the beach as the tide floods into the river.
Still waiting for the breeze to really fill in as promised but we will see.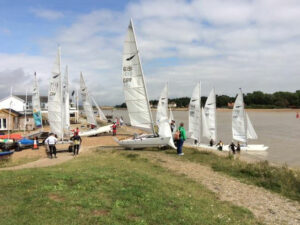 Report 2
Ok , catch up on yesterday,  similar breeze to the previous two days , light weights on the wire by the second race heavier teams wishing they were on the wire and trying!
Windsport support trailer open all day to keep the fleet on the water  and make sure no one missed the second race .
Bit of drama on the water when two boats got tangled up resulting in Mike Gomme getting a bang on the head and taking in some sea water. No big boat damage and a day in bed for Mike as recommended by the ambulance team. Good news for Mike because he got average points for the rest of the racing without hoisting a sail!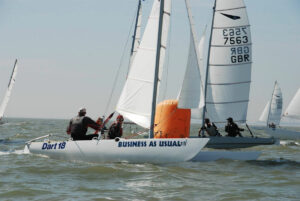 So now we are on the last day, breeze is up, well up, may be too much up and the fleet are on a 1 hour postponement while the race team wait to see what the next hour or so brings . Hope full they will get a race in for the teams that like a bit of breeze but we will see.
I the mean time the Windsport event support team have posted the sail numbers of those boats that need to settle their Windsport event accounts and hopefully that will all be tied up before the boats leave the beach.
In the meantime  a picture of chilling out time after the 70's music ad fancy dress evening, eat your heart out ABBA.
Ok , the weather did not play ball for the Dart18 Nationals fleet and the final days racing was cancelled due to the strong winds.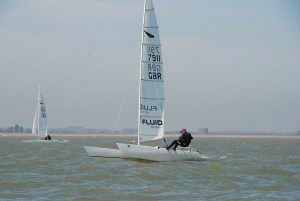 Very worthy winners Dave and Louise Roberts stepped up to take the winner's trophy with Paul Wakelin (singlehanded) second and David Lloyd/Eloise Knott in third.
A good time was had by all, pity the last day was lost , but hey that is sailing.
The good news was, everyone got away a bit earlier than expected including the "Windsport event support ROADTRAIN" and with a good run we got back to Windsport Cornwall  just before midnight so a few hours ahead of schedule!
Monday morning and guess what it is raining in Cornwall of all things! Time to start the off load and the checking back in of the event support stock and equipment. Meanwhile we have the 420 nationals underway from our boat park  so lots happening!
Next year" 40 years" of Dart 18 national championships, his will be a BIG ONE, so hold on to your hats, plan ahead and make sure if you sail, or have ever sailed a Dart18 catamaran , you are there to share in the celebration @ Stoke Bay SC
Congratulations to all those who entered the event, as they say, everyone is a winner  but there can only be one champion team.