Blue skies and puffy clouds greeted the teams as they rigged up at Parkstone YC club for a great weekend of  close Dart18 catamaran racing. The Windsport support team and trailer were on hand to keep sailors on the water and offer technical advice.  This was the last of nine UK  Dart 18 events the Windsport team has supported in 2012 with a comprehensive event package that only the Sprint 15 class (also supported by Windsport), can match.
Travelling to a Dart18 event is more than just the racing. The fleet racing is great, but the backup, help and social atmosphere is even better!!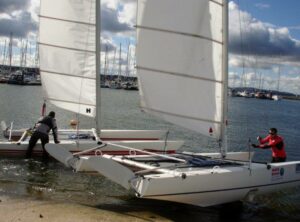 Over the course of the weekend The Parkstone event saw:-
Day 1 saw a fresh breeze  with a strong spring tide across the course, requiring eyes out of the boat to  take advantage of every opportunity on the course. Every boat completed all 3 races setting up the following days racing as a cliff hanger.
Day 2  delivered a lighter breeze but just as testing with numerous changes in boat positions right up to the finish line of each race. The 6 race series  tallied up to a very close finish at the top in both fleets, with numerous battles mid fleet.
Alicia and Louisa Clifford won the Ladies championships by just one point from local team Cat Lee-Elliott -Marian Hallet.  Alicia and Louise are new to the Dart fleet but really enjoyed the close racing.
Des Barns won the singlehanded championships by the narrowest of margins.  He finished the event on equal points with Paul Grattage but took the trophy by virtue of  a count back. Remarkably Paul sailed  over from the IOW  just to compete, sailing back on the Monday!
No surprise it proved to be a great weekend on and off the water and for those who could not make it, you missed a great weekend.
Next and final event of the Dart TT program is @ Marconi end of October, a great event to finish the summer season off forAll Dart sailors.
Final results
Dart Singlehanded Championships 1st Des Barnes (Bridlington Sc), 2nd Paul Grattage(Stokes Bat SC) 3rd Bruce Stunt (Parkstone YC)
Dart Ladies Championships 1st Alicia & Louisa Clifford (Whitstable YC ) 2nd Cat Lee- Elliott & Marian Hallett (Parkstone YC) 3rd Mary Hill & Rosemary Crinon (Parkstone YC)