With stunning weather covering the whole of Cornwall at the moment we want to point out that our Catamaran school is busier that ever. Windsport offer an enormous range of experiences and courses  to cater for all tastes and experiences.  To start with you can simply enjoy an exciting sail with one of our experienced helms  taking in the scenic estuary around where we are located.   If you are more keen to learn and improve your catamaran skills we run a selection of courses to take complete novice sailors from their first understandings of how much fun the two hulled catamaran can be to becoming a competent helm or crew capable of handling your own boat.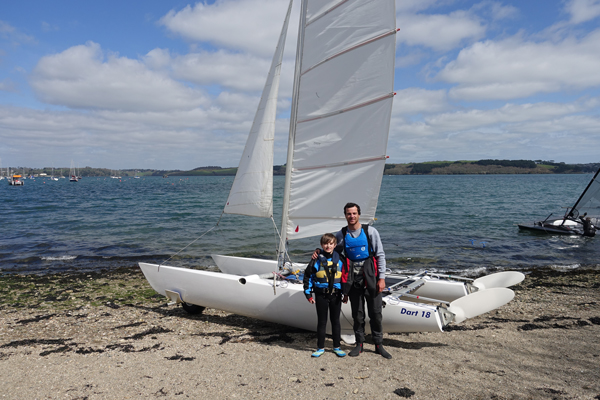 We also have a race training program to assist competent fleet sailors to get the most out of their boat and to better understand the tactics necessary to improve their results.  Our catamaran school this weekend is offering a selection of UK Dart Association crews down to enjoy  a comprehensive race training weekend.
At the ultimate end of the spectrum we have world class sailors who are able to give you an introduction into the new foiling generation of 'flying' catamarans.  These incredibly exciting craft are at the pinnacle of the catamaran development akin to formula one cars. These boats are only for the experienced, physically fit and agile sailor who is looking for the ultimate performance.