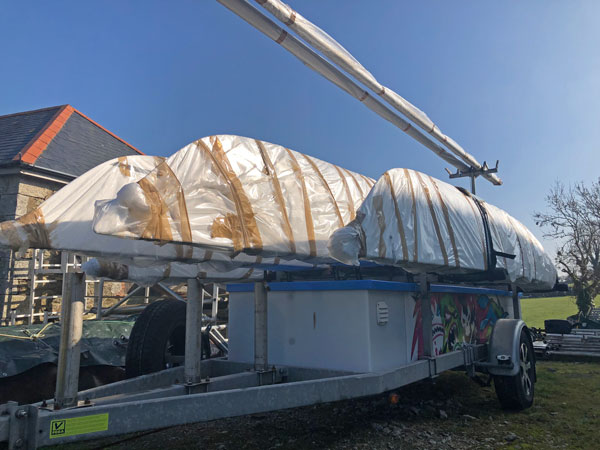 We are typing this as we make the final preparations to head East for our annual pilgrimage to the RYA Dinghy Show at Alexandra Palace in London.  This year we are not only loaded with shiny new boats to display on the Sprint 15 Association Stand and the Dart 18 UKIDA stand but we also have the launch details of our Catamaran Bonanza which has events spread over nine days based at our Windsport Centre in Falmouth.
We start on the 18th / 19th of July with a UKIDA Dart 18 Coaching event from our expert team – This covers a range of topics including boat and rig tuning, boat handling techniques and racing skills, in the class room, on dry land and under the skilled guidance out on the water.
Contact UKIDA to confirm booking here
This moves swiftly on to the Dart 18 South West Championships and UKIDA GP5 Event.  Classic one design performance racing competing for regional honours and to gain results in the Overall 2019 national series too.  You can look forward to some competitive racing on the water at the home of the Dart catamaran combined with a very traditional Windsport hospitality and social program..

The week continues for sailors looking for a sailing event with a difference, the Windsport Multihull Regatta. Targeted at sailor with partners, family and friends the program is focused on combining sailing fun with places to meet up and activities to share with those not on the water. 5 days of enjoying and exploring the Falmouth harbour area and coast line  for sailors and non-sailors.  This is perfect for any style of multihull including Dart 18 and Sprint 15 sailors, crewed or single handed.  Bring along a hobie, a topper, a spitfire or nacra – you name it you are welcome to come along for an experience that combines some coastal and harbour raids with round the cans and simple explorations with the sole aim of having fun.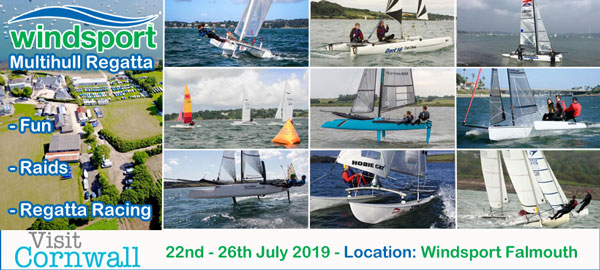 Windsport Multihull Regatta Webpage Here
If you cannot catch up with us at the RYA Dinghy Show to find out more.  For more details contact the Windsport Team on 01326 376191 or email info@windsport.co.uk