Windsport's Cat Clinic coaching is already busy in the run up to the start of the season across all levels of catamaran racing.
Windsport International represent the Goodall Design Viper ( F16) & C2 (F18) catamarans in the UK.  They are clearly "high performance" double trapeze gennaker cats with an outstanding set of international race results to their name and they arrive ready to race, with the same systems and gear that world champions would use to win.
The Windsport C2 race and test boat has been busy over the last month down at our centre based near Falmouth, introducing sailors to this performance range of catamarans and delivering coaching to aspiring F18 sailors before the start of the season.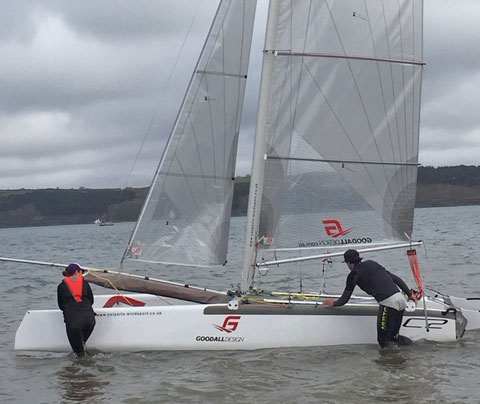 With a 2018 F18 race program of UK Championships Brightlingsea, Europeans in Spain and the Worlds in USA there is a much to play for and the C2 delivers on all fronts.
Windsport's leading high-performance & foiling catamaran coach Tom Phipps has a busy schedule  coming up in 2018, both on and off the race course .
For more information on Windsport's Cat Clinic  training / coaching availability and test sails of
Goodall Design High performance catamarans VIPER / C2  contact:-
+44 (0) 1326 376191