As with any new catamaran,  here at windsport we suggest, that fairly early on in your progression, it is sensible to complete a capsize familiarisation and recovery in practice conditions.   Due to the nature of flying catamarans we would say this is of paramount importance and something we would cover when you attend any of our foiling academy coaching.
With it successfully achieved  you are prepared and ready for it when the pressure is on, after all it is certainly not fast if you do this in counting races.  In the spirit of practicing what your preach I thought I would take the time to talk you though my recent experience of a 'training' capsize while still familiarising myself with the slightly larger GC32 foiling catamaran in the Extreme Sailing Series event at Cardiff. 
Step 1 – Put your self in a position where you have no option but to 'intentionally' capsize.
On this occasion I made the brilliant decision of getting us on port and attempting to duck a starboard boat at the windward mark. Combine this with the mainsheet system becoming jammed, and you truly have no option but to commit to the training exercise.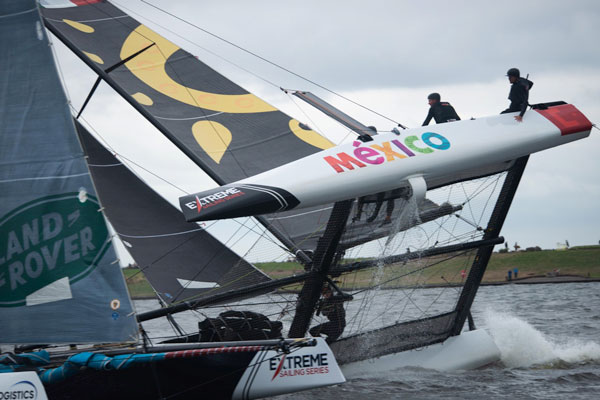 Step 2 – As the boat rolls gently over, be sure to gracefully dismount avoiding causing any damage to the boat.
While most of the 5 man team did a fabulous job of this. Myself and Alex the mainsail trimmer decided to add a certain flair to this step. Alex went for range and managed to get a good 15 feet up the mainsail before landing gently on it, breaking his fall by selectively putting his leg through the panel. While alex choose range i went for style, having waited until the most appropriate moment, I let myself fall perfectly so as to clip the main sheet on route and then performing 2 full flips before enthusiastically meeting the water.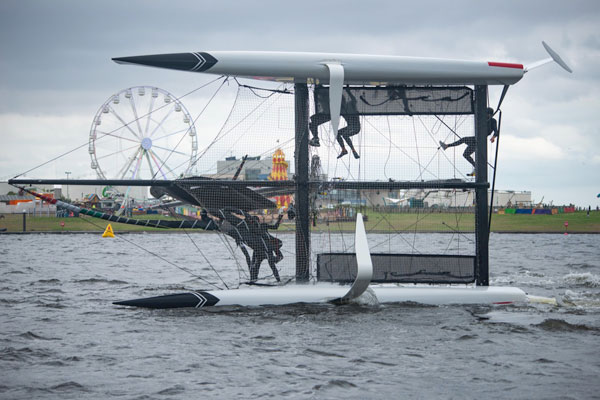 Step 3 – Ensure that everyone is ok and still with the boat.
This is one of the easier steps and for us mostly involved laughing heavily at ourselves, and taking the absolute micky out of me.
Step 4 – Prepare the boat for re righting.
Despite doing such a brilliant job of our training capsize so far, on a boat of this size this is mostly out of our control. One rib provided a line on the bow to keep the boat point roughly into the wind, while another rib secured it self the the upper size of the main beam ready to provide righting moment.
N.B. a handy hint at this stage is to wave to those watching and make them aware of just how intentional the training drill is 😉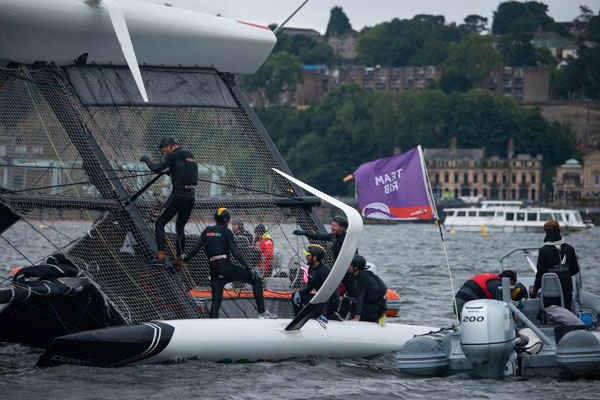 Step 5 – Right the boat
By attaching a drogue to the lower hull and pulling against it with the rib, you will soon realise that more righting moment is required. At this stage get you entire crew to balance precariously on the lower daggerboard thinking heavy thoughts to help the boat start righting. As the boat begins to re right itself, run quickly to the transom and hop on to the trampoline as it levels off. Be sure to grab the helm quickly and luff it into the wind. Apparently mounting the rib that has just saved you is frowned upon.
Step 6 – Assess any damage and debrief
This was the longest part off the training exercise. What we had all failed to take into account when 'choosing' to make this move was the amount of Cardiff mud it is possible to pack into the top of a GC32 rig (really its amazing!). A very long powerful hose and some very dirty foulies later, most of the mud had washed down the mast and had now repositioned itself over the majority of the boat. A slightly less long hose and another hour or so and we were back out flying around.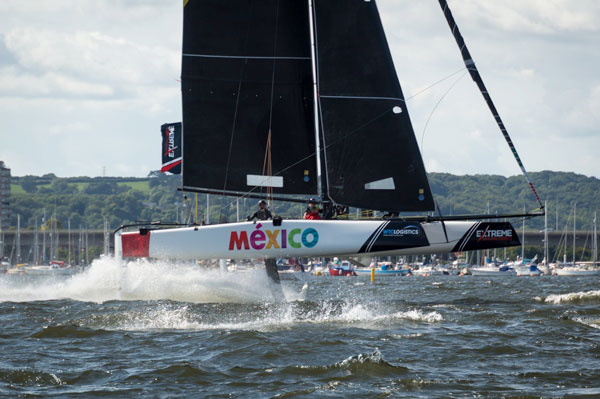 After debriefing the process we have learned a couple things, Mostly, Cardiff is perhaps not the best capsize training ground, despite us saying this a few other teams also decided to give the whole thing a go as well.
However we now very prepared for any further 'training' capsize drills. Just need to do it somewhere a little warmer and deeper next time.