The recent few days has seen a surge in activity at the Windsport boat park with almost all the remaining teams arriving and frantically setting up tents / boats.  Intricate preparations are being made by all the teams to be ready for some more settled weather, and ICCC event proper.  With intermittent breaks in some strong gusty weather conditions we have seen a few boats take to the Carrick Roads off Mylor.
It is clear that all these boats are technically advanced and tick the very high performance sailing category.   With boats travelling in excess of 20 and sometimes even 30 knots in goes without saying that there are thrills and spills to match any elite sport.  Some teams testing out their boats did not survive completely unscathed….  – Sailing Anarchy – one of the leading blog websites has always taken a keen interest in C  Class competition and has reporters on the ground for the whole event. They are well worth keeping in your favourites or join their Facebook page to keep up to date with events on and off the water.   They can fill you in on one such tale of woe: here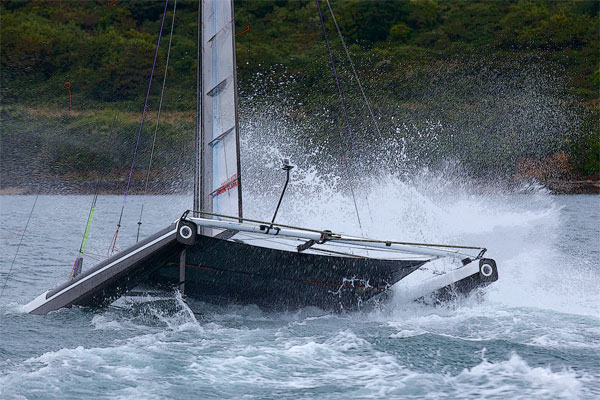 With many of the boats on the event site is is interesting to see many different shapes of wing and hull – Who or what will be the fastest is yet to be established but the racing proper begins 'Dreckly'….  keep coming back and we will keep you posted.  In the mean time click on these photos to get a picture of what the C Class is all about.
Follow on the ICCC Facebook site – or ICCC Website