Windsport International is certainly ramping up to be the host venue for one of the most technical and exciting world championship sailing events ever.  Working with Restronguet Sailing Club, Windsport will be providing the on-shore and on the water support.  The ICCC Falmouth 2013.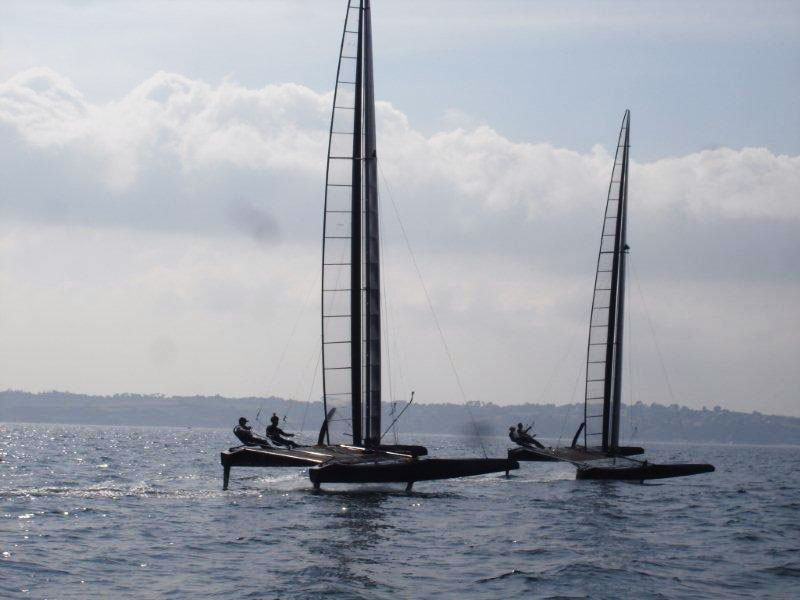 Teams from around the world are heading to Mylor to compete in a class of catamaran that is regarded by many as being at the forefront of design and pushes the boundaries of technology to its'  limits.  These 'boats that fly' perform so efficiently they can accelerate powered by a wing like rig at almost three times the wind speed, suspended on specially developed foils up to a meter off the water.  Visually they  do not look like a conventional sailing craft but their construction and design have seen some of the training crews reach speeds in excess of 23 knots (42.5km/h) in just 7 knots of wind.
The pursuit of honours in the C-Class throughout its history is taken incredibly seriously with teams bringing resources reminiscent of any elite technical sport.  Containers and pit crews have been on site  over a month prior to the event with more teams arriving all the time to perfect and fine tune their C Class craft.
On the 16th of September we expect to see all teams in place on site for a training week allowing some final fine tuning of equipment and technique.
The Championship runs from the 22nd to 28th of September when the best and most consistently placed team will take the coveted World Championship Title at the end of it.
Team Invictus – are the UK hosting team, this boat is  being helmed by a local Windsport Coach and World Championship winning Multi hull sailor Tom Phipps.  Tom is taking time out from his Olympic campaign on the new Nacra 17 to compete  in this event.
Swiss Team Hydros has been based at Windsport International  for almost a month, refinging their two boats and rigs and getting used to the testing sailing conditions in and around Falmouth Harbour.   Current Formula 18 World Champs , Billy Besson & Jeremy Lagarrigue are helming one of the multi hulls with  Mischa Heemskerk (Also an A Class Catamaran World Champion) & Bastian Tentij in the second boat.  Hydros Website
The Canadian team and defending  C-Class Champions arrive on 5th September lead by Fred Eaton and crewed by Magnus Clark.  In a recent interview with Sailing Anarchy he chats about the up coming championships here
Groupama From France will also be arriving shortly after the Canadians with another 'boat the flies' –  Franck Cammas and his crew Louis Viat certainly have the experience and technical backing to be at the front of the fleet.
Windsport international is providing the facilities for the site venue.  Over next few weeks  people looking out over Falmouth Harbour are likely to see these impressive specialist catamarans  flying across the bay usingtheir specialist wings masts to produce their awesome  speed.
For a closer look on dry land Windsport has provided short term car parking
so visitors can watch the teams preparing launching