Windsport get up and personal at the AC event Plymouth.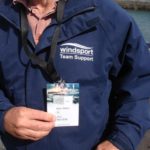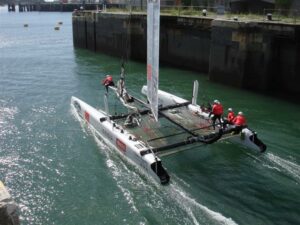 The Windsport team got prime position with special passes to visit the AC pit workshop village in Plymouth during the event. Arriving early in the morning the  Windsport team had the opportunity to tour the pit workshops inspecting the hulls, talking with the technical staff, viewing the wings from all sides and the mechanisms used to provide the camber , twist and angle adjustment on the platforms.
The China team and Artemis racing teams then launched for a training session pre racing. Using the crane systems the wings were dropped into position on the platform and boats dropped into the dock, all more tricky than described!
Finally we got a quick glimpse of the China team sailing out into the sound before doing an amazing pitch-pole that wiped out the rear panel of the wing, and Artemis racing doing  a quick sail across the sound and back again before calling it a day.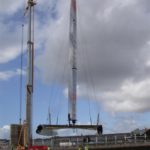 The AC cats are truly amazing a real test of nerve, skill, understanding and team work.
Windsport team sailors like Tom Phipps would love to part of a AC team, for the rest of us we would be happy to experience the odd ride as the 6th man riding on the stern netting!!
Check out the amazing racing on You Tube – The Americas Cup Channel
Next Stop San Diego…  the count down is on