Not sure how long I have been sailing and involved in the  Dart 18 –  on and off for a "long" time?
I joined  the Panthercraft manufacturing team as a technical sales person in 1979  (having initially been on the shop floor laminating some of the first production hulls), I worked in this position for a few years, then went off and did other jobs and sailed  other things (always cats!) like F18 and Hobies, coached for the RYA and worked with a host of performance catamaran sailors from many countries.
More recently, in the last 4-5 years, I have been working with Ian Fraser, one of the original Dart 18 design team, to  put the Dart production back on track, provide the sales support to the dealers and continuing the success of the Dart in the UK and other regions.
After all that time involved in sailing you might be surprised that our daughter, Katy, now 22yrs old, has managed to stay off catamarans, out of sailing other than the very occasional fun ride and off the race course. Katy has followed her own dreams to be "on the stage" and  an actress.
With France-catamarans  providing the spares and technical support at the 2013 Dart18 Worlds  it was a chance for myself to actually sail an event, something I have not done for many, many years. They say it is a bit like riding a bike and I guess I was about to find out! With the chance to "practise what you preach" as a catamaran sailing coach. Knowing that the more you practise the luckier you get and feeling a bit rusty on the practical side I need to get realistic.
Katy had some spare time , as you often do when you are an actress!! and a bit of father-daughter bonding was on the cards.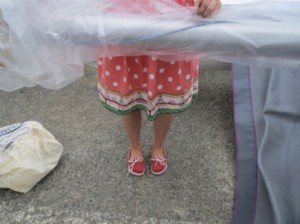 The result was Katy went into serious training and bought a new dress with boats on it! and I went off to support the SW Dart 18 championships at Starcross, was lucky enough to borrowed a local boat for one of the days, found a scratch and very keen crew to sail with and  enjoyed three short races.
Big panic to get everything loaded for the trip to Carnac and put on-going support in place back at Windsport for all those Dart sailors who could not make the event then off to Plymouth for the ferry, scooping up Katy on the way.
Arriving a day before was great, it reminded me of a time when I  was campaigning a variety of catamarans seriously,  arriving early with time to rig, check, sail and settle in.  Katy delivered some measure of boat building support by helping where needed and soaking up the sun.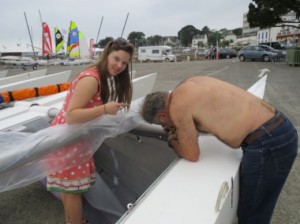 To the untrained eye you might think Katy was not taking much notice but as I was to find out Katy had been taking it all in, including those boring discussions across the meal table between her brother, Tom, and myself !
Day 2 on location – the practice race day, we managed to get afloat a little before that  to run through the skills of tacking, gybing and sail setting, then down to the start line.  Flags,
hooters,  other boats and a imaginary start line was all a bit intense both in explanation and action , but we manage to keep out of trouble, do a round and then spend another hour getting in and out on the wire, which lead to a couple of dips for Katy and some basic helming , just in case I fell off!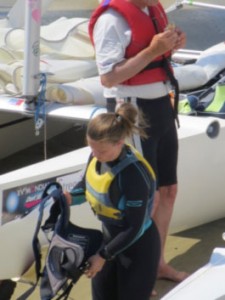 The following days of fleet racing were  just good fun with periods of intense nervousness and action which proved always a challenge to our team. Some good result in the first few races  lead to a couple of black flags thanks to an over excited  helm and a  crew still learning what all the flags meant. Every day we experienced a new shared situation and learned a new lesson. Both of us were pooped at the end of each day but Katy made sure she did her share of the de-rigging and then shot off to grab the shower before I could get there. Being a party girl Katy made the most of the event socials but made sure she was fit for action by the next day, the 1.00pm starts helped! By 11.30 each day we were ready to launch and  do our pre-start routine and settle in on the race course.
By the final day we were in with a shout of a top three result, one black flag discarded and second one to go.  Got squeezed on and off the start line by other interested parties, which with our limited boat handling skills forced us back down the fleet a bit, but hey ho,  I was sailing with my daughter who "did not do sailing" !
Finished 3rd overall, very, very proud of Katy for pulling out all the stops whatever the wind strength and whatever the challenge and I think Katy was quite proud of her dad too.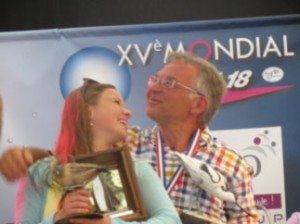 Thanks must go to our "Trolley Dolly" Cookie, not sure where she was when we came back to slip? Possibly enjoying a glass of wine and to Paul Chatfield who came to Windsport for 3 days before the event to help us to be ready on time.
FINAL RESULTS for TEAM PHIPPS
Race 1             3rd
Race 2             3rd
Race 3             Black flag
Race 4             Black flag
Race 5             1st
Race 6             1st
Race 7             3rd
Race 8             3rd
Race 9             1st
Race 10           2rd
Race 11           22nd
Race 12           13th
Congratulations to Dan Norman and Jess – 2013 Dart18 World Champions and John Pearce also sailing with his daughter, Imogen  who finished  a very  worthy 2nd.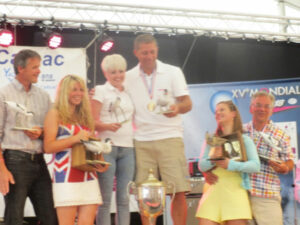 Sailing the worlds reinforced many things in my coaching mind, but here are a few…..
1) Sail with the wind you have and not the wind the boats around you have.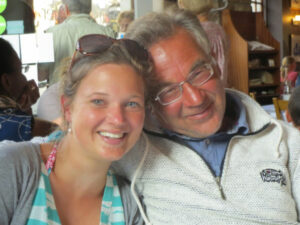 2) A good start is safer than the best start
3) A pre-race sailing session starts you off on the right foot
4) Boat handling is key when under pressure, that is when you need it.
5) Take each race as it comes but learn from the previous
6) Changing gear pro-actively works better than reactively
Very special thanks to Katy – Super Crew!
All the best, thanks crew
Brian
PS. If anyone is asking  the hull weight of our boat is 39kg and 40kg ,  constant with the manufacturing target weight over the years.
brian.phipps@windsport.co.uk