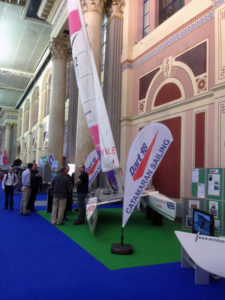 –       Both the Dart 18 and Sprint 15 Stands were  busy over the the whole weekend with plenty of interest.  It was very positive to see interest in both new boats ( possibly in readiness for the Dart 18 European Championships in Mumbles this summer) and that the value and demand for second hand boats is still exceptionally strong.
If you are tempted to go to the Euros you can save money by getting an Early entrance fee if you enter before 31st March .
If you are looking for for a great warm up event then do not forget about the South West Dart 18 Championships with Windsport providing coaching the day before.  Contact the Windsport Team for more details or try the hosts Restronguet SC.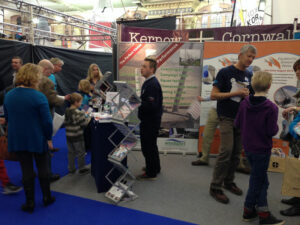 –       The Visit Cornwall stand proved to be incredibly popular providing a wide range of information on the extensive range of venues the county has  on offer – It was great to see so many families showing a keen interest as well as the huge response from the class associations looking at our great championship venue.
It also launched the promotion the of  the new  Falmouth Catamaran and Dinghy week. to be based from Restronguet  Sailing Club in August 2014 – the week after Falmouth Week.  If you are looking to arrange  a boat, trailer and car parking package as we have done for previous Falmouth Weeks please contact us to confirm your booking.  If you did not make the show you still have the chance to win a free boat/car park package in our #loveCornwall give away here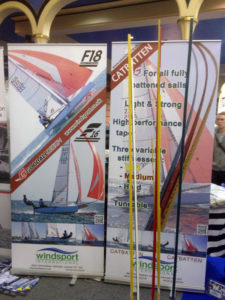 –       The Cat batten display on the UK Catamaran Racing Association succeeded in attracting considerable attention from all manner of Trade, sail makers and keen sailors using either fully battened sails or full head battens in their rigs.  With three varying stiffnesses of tapered batten that you can custom trim to length – it can provide you with the flexibility to trim your rig like never before.
The Goodall designs with the C2 Formula18 and Viper Formula16 presentation proved also to be popular with a select few catamaran sailors looking for the ultra high performance end of cat sailing.  With new boats on their way we have only one remaining Viper F16 demonstration boat left if you are looking for a great deal. Click here for more details.