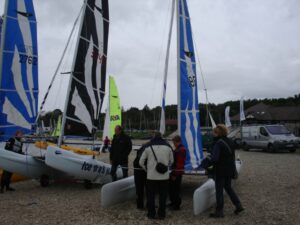 The Windsport support trailer and team travelled up to the UK Dart16 National championships 2012  taking place at Carsington SC. Derbyshire in September to provide suitable replacement parts and technical support. The Dart16 fleet included a growing number of club youth catamaran sailors  keen to test their skills and improve their performance.
Windsport kept boats with damaged or worn equipment on the water as well as providing technical advice on maintenance and repair.
Windsport hold an increasing range of Dart16 replacement parts with specialist  knowledge and coaching expertise that are second to none.
Contact Windsport for Dart16  support.