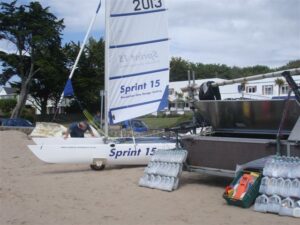 The Windsport regatta team where out again this time supporting the Sprint15 (Dart15) at their Sport National Championships.
Almost 40 boats entered the championship event held at North Devon Yacht Club, Instow and the Windsport trailer and team were there to make sure the sailors and boats were ready for the water each day.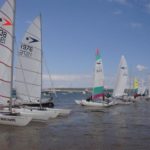 Brian Phipps from Windsport joined in two of the races  in a fresh "out of the box" brand new Sprint15  scoring a 1st and a 2nd, Brian said " Sailing a new boat straight out of the box is not the best way to join in a championships, ropes are a bit slippery and you are tuning up as you go, but the boat felt really good and certainly had a great turn of speed".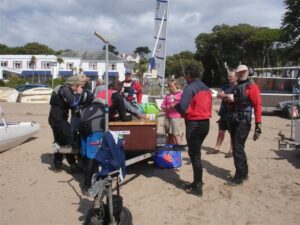 Organising the the "Windsport Pimm's happy hour" for s
ailors as soon as they came off the water forced Brian back to the beach before the third race of the day but made sure sailors could enjoy Pimm's on the rocks as soon as they touched the beach.
The final day of sailing promised to be a epic with forecasts of strong winds and driving rain. The rain just kept coming but the wind veered during the race giving the sailors a testing time on a flooding tide.
With the prize giving well under way Windsport's class sponsorship which includes a brand new mainsail demomstrated the commitment Windsport has to the boat and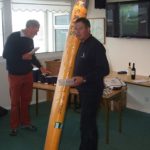 the class. Other Windsport prizes where distributed as raffle prizes including the new  Mega skeg protectors, Windsport pre-stretched toe-straps, wind-indicators and racing flag stickers.
For full results check out the class website here
Many thanks to Thom Flaxman for the photo Album link
To find out more about the Sprint15 and class replacement parts visit www.catpart.windsport.co.ukor call Windsport 01326 376191