Recent News and upcoming events
Paul Chatfield with the Windsport Support Van and Trailer loaded with a range of items pre ordered and spares to cover most eventualities arrived to joined in the first Sprint 15 TT of the season.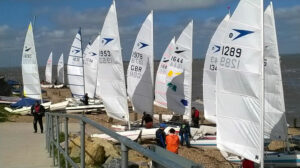 25mph winds and a steep NE chop were the conditions awaiting the 22 competitors for the first two races on Saturday. The chilly wind powered the 15's through the long swell around the compact course, each leg bringing a different challenge to the fleet. Little respite was available as the helms battled to prevent capsize and to keep the bows from burying deep in the churning sea. Eventually, the cats completd the two back-to-back races with many thrills and spills and ploughed their way to shore as their helms staggered onto the beach exhausted. Following a lovely evening meal in the clubhouse and a solid nights sleep; the following day brought far more benign weather to waft the fleet around the course. Patience, concentration and frustration replaced the sheer grit, strength and determination of the previous day. All the while, the supporters on the sea wall cheered and hollered their support to top off a wonderful weekend at the Seasalter Sailing and Catamaran Club.
For a full event report : Click here